The Hidden Fox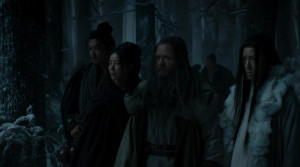 Story: Bao Shu (Chun-Yu Shan-Shan) and Tao Baisui (Ray Lui Leung-Wai) want to get hold of a map that shows the way to a huge treasure. The guardian of that map is the hero Hu Yidao, who is known throughout the entire country. Bao and Tao forge a plan in which they want to make it look as if Hu killed the wife of hero Miao Renfeng. Miao wants to take revenge on Hu, and eventually the two heroes die. The map, however, disappears and it takes ten years for it to reappear. Along with their allies, Bao and Tao want to find the treasure that is located on Feihu Mountain. Nevertheless, only one of them can receive a title and lands as a reward from the king. Bao therefore put the promising fighter Gui Yu (Zhao Hua-Wei) as a mole into Tao's group. Gui has been discovered by Bao's student Qing Wen (Chen Yu-Si), and although Gui Yu is an excellent fighter, he does not have a special fighting technique like the other members of his group have. In order to recover the treasure on Feihu Mountain, the two groups first have to find a key at the foot of that mountain. In a tavern, they do not only find what they looked for, but they also hear the story of the Flying Fox from the Snowy Mountain, which is supposed to guard the treasure. Making things more complicated, though, is that Bao and Tao make life difficult for each other during the treasure hunt.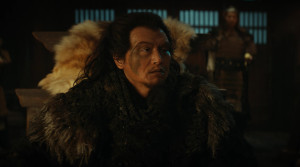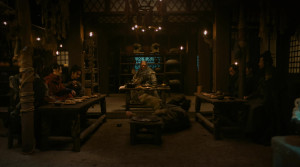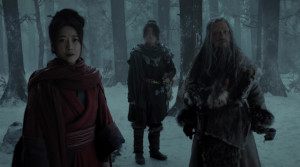 Review: If you are looking for wuxia movies, there is no way around the streaming service iQiyi. While there is also a lot of cheaply produced sci-fi stuff on there - some of it not even that bad as "Restart the Earth" is proof of -, you'd hope that with a movie based on a novel by Jin Yong you could not do that much wrong. Still, I was quite skeptical, especially since the beginning of "The Hidden Fox" is not that convincing. But the further the flick progresses, and you realize that - despite the initial disorientation by the multitude of characters - you are actually able to keep all the individuals apart, and they even turn out pretty colorful thanks to their specific abilities, the movie is quite a lot of fun. Then, when the twists and turns and the game of cat-and-mouse, which are typical for Jin Yong's novels, start to unfold, you simply know that you are getting just what you hoped for.
But let's briefly turn to the things that don't work that well. The introduction is pretty high-paced, and you get bombarded with several names. Then you are thrown ten years into the future and from there you get to see a few flashbacks too. The movie could have run the risk of becoming as incoherent as numerous other Chinese productions here, but the original source material actually makes that almost impossible. Thankfully, there is no unnecessary fantasy spectacle with numerous excessive, but badly done CGI scenes like in "Legend of the Ancient Sword". Instead, the movie stays true to the wuxia genre we know from the 90s. "Sword Master" was a similarly successful flick, even though it probably had somewhat higher production costs. But "The Hidden Fox" offers some positive surprises regarding its budget, so you wouldn't necessarily believe the movie was a streaming flick.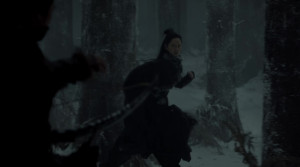 A small example for that are the computer-generated hyenas, which are surprisingly believable. In addition, there is no obvious constant green screen in the background. Instead, the sets are wonderfully designed, and the costumes and makeup are outstanding. Moreover, the movie managed to find the perfect balance between kung fu and wirework. There are no elaborately choreographed fights, but rather beautifully composed individual scenes, some of which almost radiate a poetic beauty, because natural elements, such as snow and swirling leaves, have been incorporated into the composition. Just the way you'd wish for from the genre. There might be a little too much slow-motion at times, but it never seems cheap, and the various cuts during the fights fit quite nicely too and don't get frustrating. Wuxia fights have to set the right tone and are not comparable to that of classic martial arts flicks, something many directors seem to forget nowadays, but Qiao Lei knows his craft behind the camera.


Wuxia stories are also quite often the inspiration for manga works, and so it should not come as a surprise that, little by little, we get to see the abilities of the individual villains unfold. Sure, the movie actually seems to exclusively consist of villains, but it is quite clear that Gui Yu is just out for revenge, and he can therefore be considered one of the good guys. But the fascinating thing about Jin Yong's characters is their different facets, which are quite recognizable here as well, even though they are outlined somewhat roughly. A little more elaboration would certainly have been nice, especially since the movie had enough room for complex emotions with its running time of 104 minutes. Unfortunately, a lot of things seem to be ticked off quite quickly. Furthermore, by cutting down the original material so much, the epic character of the story gets lost, so that betrayal and revenge do not turn out as emotionally charged as they could have. But you can forgive that since director Qiao actually still manages to preserve the wuxia world within this short run time.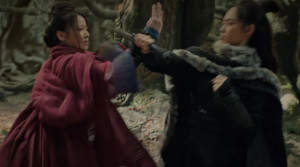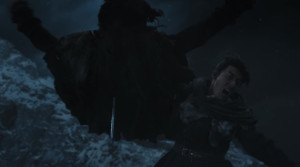 Towards the end, we learn about the abilities of the individual characters, and here you clearly feel reminded of movies like "Shinobi - Heart under Blade", which was based on the manga "Basilisk", and this once more shows how the various forms of media inspire one another. It's simply a childish kind of fun to watch characters reveal their special fighting skills, or sometimes magical abilities, at just the right moment. With the mountain, the director also managed to create an interesting, isolated space, a place in which the characters are trapped and challenge each other to deadly duels. The atmosphere is beautifully captured too, and we feel like we are thrown directly into the "jianghu", the world of heroes and villains, basically the fantasy version of the Chinese "Wild West". So, "down-to-earth" wuxia flicks, without candy-colored effect firework display straining your eyes, actually still exist. That's why, wuxia fans will hardly be bothered by this movie's few weaknesses and will definitely have a lot of fun with it.
(Author: Manfred Selzer)