Keys to the Heart
Story: Kim Jo-ha (Lee Byung-hun) is forty years old and his boxing career is over. He passes out flyers on the streets to make ends meet and sleeps at a manga-reading shop. By chance, he runs into his mother In-sook (Youn Yuh-jung), who left him when he was a little boy, because his father used to hit her on a daily basis. He grew up with his father, who spent most of the time in jail, though - just as he does now. In the meantime, In-sook started a new family and now raises her autistic son Jin-tae (Park Jung-min), a kind-hearted boy, who is a prodigy when it comes to playing the piano. However, Jin-tae only plays piano in church and spends the rest of his day playing video games, oftentimes with the landlord's daughter. In-sook offers Jo-ha to live with her. Because of that, the two brothers end up getting closer, even if Jin-tae is afraid of the boxer. Their mother has to go to another town to help out at a branch store of the restaurant she works for and because she has to stay there for a month, she asks Jo-ha to look after his brother during that time and accompany him to a piano competition. Since Jo-ha is allowed to keep half of the prize money, he agrees to do it. It so happens that he knows Jin-tae's idol, the pianist Han Ga-yool (Han Ji-min), because not so long ago she knocked the boxer down with her car. He asks her whether Jin-tae actually has any talent and even though the pianist gave up playing, the autistic boy's talent raises her interest in music again. Jin-tae could actually become the next big star.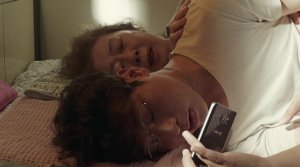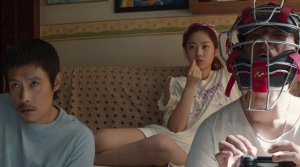 Review: A boxing career that has reached its end, an autistic prodigy, a broken family and an incurable disease. You don't need much more to get a rough picture of what "Keys to the Heart" is about. You may even have seen this kind of story here and there already and you won't necessarily get any new experiences from this movie, either. However, being obviously designed for a wider audience this drama does manage to avoid cliché-driven moments skillfully by adding comedic scenes right after them, but without destroying the general tone of the movie. Even if at the end of the day, the director still can't hide the fact that he presents us with a tearjerker, he manages to avoid the cheapness of a telenovela and gets a rather good if not even very good performance out if his actors, so that you can definitely say you are dealing with a quality piece of work here. If you don't feel surfeited already by these kinds of movies, you will definitely get a very nice drama.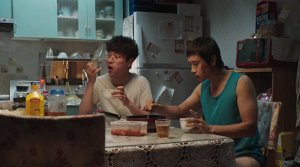 At the beginning, you can't be certain, which kind of drama you are actually dealing with here. Jo-ha is a boxer who is about 40 years old and who didn't manage to get his career going again after he attacked a referee. Could this be his comeback now? But then there is also the autistic brother, who is a genius at the piano. So are we actually dealing with a drama with a musical touch like "My Paparotti"? Indeed, we are dealing with the latter, even if it takes some time until we realize that. But generally, the movie is about a family getting together. What you have to enjoy is the fact that with his debut work director Choi Seong-hyeon does not dwell too much on redundant scenes. We are presented with Jo-ha's childhood through a flashback during a boxing match and he visits his father in prison to finally settle the score with him and to get his pain off his chest. The scenes at the hospital are not exploited too much, either.


In its core, the movie is, without a doubt, a tearjerker. The camera shots of the faces of Jin-ta's mother and brother during his performance in front of a large audience - wouldn't you know it - manage to make the most of this sentimental moment, but apart from that, director Choi is surprisingly reserved in that respect. The plot itself could have been extended into an entire TV-show full of phoney tragic moments, but as a movie "Keys to the Heart" successfully steers a middle course. After a stroke of fate, for instance, Jo-ha is offered a cigarette and the atmosphere is supposed to highlight the character's emptiness, but then he starts coughing and mentions that he has never smoked before because of his sports career. It's small moments like these that lighten up the mood a little bit and which allow the movie to easily get its act together during dramatic scenes. Clearly, one of the movie's strengths.


There are also some other characters that manage to lighten the mood, such as the landlord's daughter, who oftentimes hangs with Jin-tae and plays "Street Fighter V" with him. The game has a special meaning to the autistic boy, as he always has his cell phone with him and has videos of fights playing in the background, even when he plays the piano. Supposedly, it is some kind of metronome for him, or it just gives him a feeling of security as it is something familiar. The tough, introverted Jo-ha, Lee Byung-hun ("A Single Rider") in his model role, just sits down next to the two and challenges the extremely talented Jin-tae. But when the boxer loses during a racing game, he wants to switch cars with him and when he is defeated again, he wants to change controllers. A tiny moment, which - also because of the ensuing tantrum - breaks the ice instantly and conveys a feeling of family or friendship. Same goes for moments with his mother, played by Youn Yuh-jung ("Canola"); she tries to chase away the old demons of their relationship by drinking a glass of wine with her son and then wanting to dance.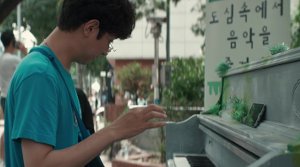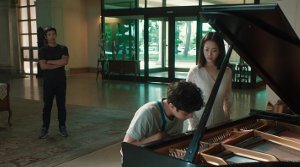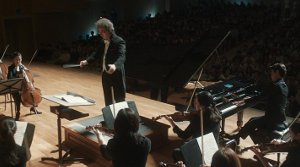 There is also Park Jung-min ("Psychokinesis"), who delivers a brilliant performance on the piano, at least it seems so at first glance - how much of it has been dubbed afterwards remains unclear - and who is also very convincing as an autistic boy. His portrayal of autism may not always be on point and he may even be outperformed by Lee Byung-hun sometimes, but his stoic "yes" during the most inappropriate dramatic moments adds another layer of humor to the movie, without making the character look ridiculous. The piano music is mostly Chopin and therefore not particularly out-of-the-ordinary, but it is played with so much emotion that it works pretty well. Dramatic movies with classical music at their core always strike the right note. Unfortunately, at the end, the movie comes back to the decease plotline. Similar to the aforementioned clichés - including the numerous coincidences -, the movie, however, manages to get its act together and does not dwell on the topic of loss too much, but rather focuses on a family growing together.
(Author: Manfred Selzer)