Fatal Intuition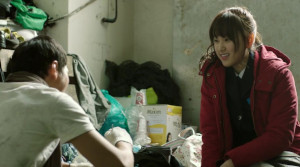 Story: Jang-woo (Joo Won) lives in a small fishing town together with his sister Eun-ji (Ryu Hye-young). His parents died in an accident, and he has been taking care of Eun-ji ever since. He does physical labor while his sister is supposed to finish her school and then go to college. The medium Si-eun (Lee Yoo-young) also lives in the city and she is actually able to see the circumstances under which the people around her will die. The residents think she brings ill luck, and therefore either avoid or harass her. Eun-ji also runs into Si-eun, who actually has a terrible vision about her. Shortly afterwards, Jang-woo locks his sister up at home, so that she wouldn't go out and do something stupid but instead studies for school. When he comes home, however, she is gone. The police suspect that she ran away after the argument with her brother, and that she will soon turn up again. But then her body is found in the house's basement. Jang-woo is devastated and the police seem to be incapable of finding the murderer. That's why Jang-woo turns to the medium. At the beginning, she is less than thrilled about the idea of using her visions for that purpose, but soon the first leads show up. Jang-woo suspects the pharmacist Min (Yoo Hae-jin) to be the murderer or at least to know something. However, playing detective turns out to be quite dangerous for Jang-woo.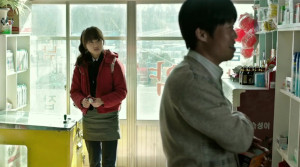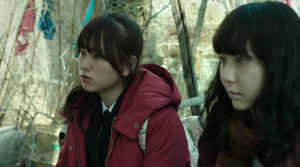 Review: "Fatal Intuition" feels like a movie that seems to have an identity crisis halfway through, if not earlier on. But even before that, not everything fits together in this thriller. For example, the abandoned houses of the small fishing town pretty much remind us of a drama portraying the issue of redevelopment and the associated eviction of residents - even by using gangsters if necessary. But then it's quickly obvious that this movie is a thriller, while at the same time it makes clear very early on that one of the protagonists has supernatural abilities. What kind of story the flick actually wants to tell, remains mysterious, and unfortunately, this also deprives the movie of its entertainment value. We always feel a certain distance to what is happening, and that's due to the movie's inconsistent tone.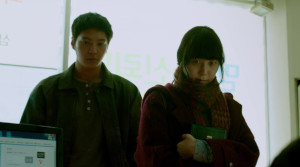 At the beginning we see a nice contrast between the extremely pessimistic Jang-woo, who does everything to see his dreams realized in his sister while taking on the responsibility of a parent, and Eun-ji, his counterpart, who is always in a good mood while using her smile to give some hope to the people in the desolate town. When tragedy hits, the movie inevitably gets darker. What is missing, though, is characters dealing with the question of guilt. At least you would expect Jang-woo to blame himself just for a minute or two for locking his sister in and therefore denying her an escape from the killer. But that is not the case. In addition, it would have been nice if Eun-ji had not been completely removed from the movie after she died, but instead had appeared in some flashbacks during which we might also have found out that sometimes she only faked her optimism in order to make her brother's life easier.


That would probably have been a different movie, but one that has a little more depth. Jang-woo, played by Joo Won ("Don't Click"), is quite generic as a character and only driven by the need to find his sister's murderer. He does not proceed very logically at that either, but instead just follows his gut feeling. That makes it all the more disappointing when his assumptions actually turn out to be right. The audience is not allowed to think for itself. The identity of the murderer is revealed far too soon, and you always expect there to be a twist, but there is none. Yoo Hae-jin ("Mal-mo-e") can often be seen in more comedic roles, but here he shows that he is great at playing a pretty creepy guy too. Nevertheless, you still feel left in the dark about what the movie actually tries to tell us by addressing the killer's backstory. The reason why he became a murderer? Or was it just an attempt to bring the supernatural aspect of the story full circle, because in the end, we also get to see a ghost or two.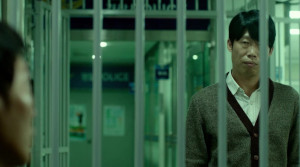 Si-eun, portrayed by Lee Yoo-young ("The Soul-Mate"), is a medium, who could easily have become a shaman - which interestingly enough, would have earned her some prestige, as we see during a shamanistic burial of the dead -, but instead chose to live as an outsider. That in itself is strange, especially since we don't learn anything about the backstory to that and her previous life. Then it even becomes clear that the movie would actually have worked without her abilities. At no point does she really bring the search for the killer forwards, except for maybe in the finale, but only if you want to be very lenient. Unfortunately, the tragedy that the future in her visions can never be altered, is not properly tapped into either. So, she is just the hero's sidekick, but without him really needing one. The director apparently simply wanted to make the movie a little bit more colorful with her.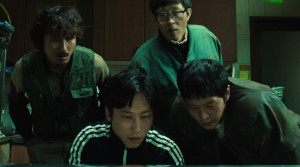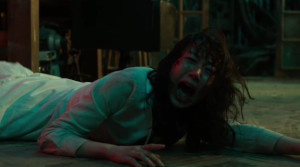 The mystery element seems out of place in this movie, and the story itself is not very spectacular either. What's left is a standard thriller, in which the visions are just used to set "Fatal Intuition" apart from a thousand other movies of this kind. But that doesn't work. Director Yoon Joon-hyeong previously put together a far more solid thriller with "Bestseller". The atmosphere of the somehow desolate fishing town might be the only extraordinary thing about this flick. There is simply nothing special here, the chemistry between the two protagonists is not convincing, the ending is disappointing, and the transition to it is also quite confusing. If you like thrillers, you will certainly find better alternatives without putting much effort into it.
(Author: Manfred Selzer)