The White Storm
Story: So Kin-Chow (Louis Koo) is an undercover cop who has gained the triad's confidence. His only contact persons at the police force are his two friends Ma Ho-Tin (Lau Ching-Wan) and Cheung Tsz-Wai (Nick Cheung). Ma leads the investigation and constantly exerts pressure on So, who actually just wants to return home to his wife who is expecting a child. But Ma informs the undercover cop that his assignment isn't over yet. The triads want to do business with a Thai drug cartel which the police is trying to smash for a long time already. However, their leader Eight-Faced Buddha (Lo Hoi-Pang) is someone who very rarely shows his face in public. The operation in Thailand is then going wrong on several levels. First, So's cover is almost blown since there is a mole in the Thai police. After that So makes the mistake to warn Eight-Faced Buddha that the deal is a trap. His actual goal is to finally be able to return home, but the result of his actions are a blood bath which leads to the friendship of the three policemen to slowly fall apart.


Review: Some movies can truely make you angry. In a way "The White Storm" is a great homage to the heroic bloodshed genre of the 80s and 90s, you want to love it and it has great actors speaking for it. The action doesn't need to hide either, but unfortunately all of this just creates an even bigger contrast with the completely muddled story that takes away any foundation the movie might have had. Director Benny Chan knows how to handle his action scenes, that much he proves on a regular basis with movies like "The Viral Factor" or "Invisible Target". Thus you could easily call him the Michael Bay of Hong Kong. And in fact that's pretty accurate since the action here is in part spectacular and on the other hand the movie lacks heart. That's a shame, since "The White Storm" easily could have been a fantastic genre film.


At first, the movie inevitably reminds us of "Infernal Affairs" with its story about moles, but as the movie progresses it becomes obvious that Benny Chan follows the pattern of "A Better Tomorrow", the much-loved classic revolving around trigger-happy heroes that shed as much blood as tears. However, the problem is that nowadays it has become difficult to sell something like that in a way that is at least somewhat credible, additionally it calls for some well elaborated characters. But the screenplay doesn't provide an appropriate foundation which would allow us to truely relate to the protagonists on an emotional level. More often than it should be possible this is achieved nonetheless, but that is the sole effort of a great cast.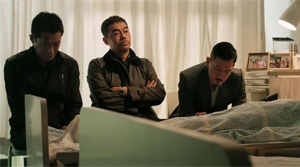 Louis Koo ("Accident") brings up the rear of the cast, although he is giving everything but a bad performance. But Lau Ching-Wan ("Life Without Principle" or like so often alongside Louis Koo in "Out of Inferno") simply steals the show from him. However, he alone wouldn't have been enough to create a few emotionally very tense moments. Once again it's Nick Cheung ("Unbeatable") who delivers great stuff. Even though the shift in his character is written in a way hardly believable he still gives the character some substance. More than anything else the motive of blood brotherhood consistently shines through. Those who can't see the motives of a John Woo jumping right into their faces here will find them during the action scenes at the latest.

The action is wonderfully implemented and provides even more than one highlight. The showdown is so much of a tribute to Woo that it almost becomes a bother. At least the director refrained from making some white doves appear at random. Nonetheless, it's nostalgia that captivates in those scenes and when the blood in a rather Johnnie To-like manner gushes through the air in the shape of clouds your body will inevitably be pumped up with adrenaline. Yet, Benny Chan also mixes in some of his own handwriting with a few spectacular explosions. Yes, you start to grow fond of the characters a little bit, but not as much as it should have been. Some of the songs used, which are supposed to underline the drama of the tragic heroes as in the good old times, seem rather out of place, too. But apart from that you often feel somewhat at home in this action flick.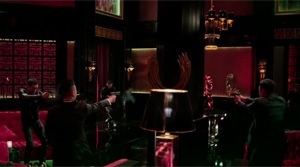 However, being a big problem for the movie's overall flow is the screenplay. A total of five individuals have meddled with it and that's just how the end product looks like. Episode-like from start to finish and although this might at times be ok, because of a cut in the middle of the film, many occurences don't make any sense. Moreover, the story becomes unnecessarily confusing and unbelievable. That the story's heroes are riddled with bullets on several occasions and simply go on isn't that bothersome, although nowadays it is simply too much of an old-school theme, but simply unfitting are some plot holes and clichés as well as some pecularities like the wife of one of the protagonists, who is actually a man, or the use of Nana Mouskouri's "Amazing Grace". At the bottom line "The White Storm" is a heroic bloodshed movie that is too long (135 minutes!), a must-see for fans, but not really of interest to anyone else as it sadly doesn't stand as a really well achieved action thriller.
(Author: Manfred Selzer)