Table for Six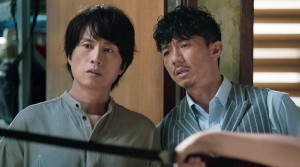 Story: Steve (Dayo Wong Chi-Wah) is a photographer and lives with his two brothers Bernard (Louis Cheung) and Lung (Chan Charm Man) in a large apartment that used to be part of their parents' BBQ restaurant. Lung believes that he will soon become incredibly successful as an eSports player, but his girlfriend Josephine (Ivana Wong) wants them to finally get married. Steve and Bernard suggest that Josephine moves in with them and works as a chef for them, as she already cooks for the shared apartment all the time anyway. However, the living community gets even bigger when Bernard introduces his new girlfriend Monica (Stephy Tang), who also happily moves in with them after one of the brothers suggests it, since she has just lost her job. Steve is quite unhappy about that, though, because Monica broke up with him three years ago, and he is still not over her. In order to show her that he has moved forward in life, he starts a relationship with Meow (Lin Min-chen), who has worked as a model for his last assignment and shown interest in him. The three brothers are inseparable, but the new developments in their lives require a lot of patience. Their relationship problems also put the peace in the shared apartment to the test.




Review: "Table for Six" is a comedy that shows a lot of local color, although the movie mainly takes place within the brothers' four walls. The themes of the movie will appeal to Hong Kongers in particular, but even a Western audience will be able to identify with most of the problems, even though sadly, some of the humor gets lost in translation. There are quite a lot of allusions that are clearly culturally bound, but you can also just focus on the characters and their struggle with getting older, or rather their inability to move forward into the future. Despite the fact that "Table for Six" is about relationships, it is not a romantic comedy, and that's because the complicated relationships get sufficiently examined and offer more depth than you might have expected at first. Unlike most romantic flicks, which guarantee a happy ending, here the relationships are dealt with in a more mature manner.
This shouldn't come as a surprise, though, as the movie is also about mid-life crisis. The three brothers stay put where they are in life, which is mainly due to Steve, who does not want to sell the apartment regardless of his brothers' wishes. His own reason being that he mostly just wants to comply with his mother's wish and, as the eldest brother, he carries a certain responsibility. So, he still keeps the family together by making eating together at the table a mandatory thing. In addition to his (misguided) sense of responsibility, he is not able to make any progress on a relationship level either. He is still not over his old flame, even though she doesn't know anything about it. But when you find out under what circumstances the relationship was ended, you can't help but chuckle. Here, director Sunny Chan shows that he has worked as a screenwriter for years, and he throws us a curve ball every now and then, so that the developments of the story always remain original and fresh.


This is necessary too, because at first glance the flick doesn't have a common theme. However, the complex web of friendship, brotherhood and romantic relationship holds everything together and keeps you interested, because the relationships could develop into any direction. The story is mature enough to keep things unpredictable, and that's one of "Table for Six's" big pluses. In addition, the movie also mostly takes place in just one single apartment and with that it has the flair of a stage play including dynamics typically associated with that. In contrast to the men, who are mainly center stage, there are the women, who bring everything into motion and push things forward. Stephy Tang ("The Empty Hands") as Monica is part of a love triangle, which is of course bound to bring chaos, but Lin Min-chen's ("One Second Champion") role as Meow is the most surprising. At first she seems like the superficial e-girl, but she brings a new perspective into the shared apartment and shows that she has a surprising level of wisdom and sensitivity.


Lin may look like she is in her early twenties, but she's actually already 32 years old. Nevertheless, the age difference between Steve, who probably is in his early fifties (actor Dayo Wong is actually even 60 years old...), and her seems a little out of place at first. However, it does not really bother, because there is no future in the relationship anyway, as Steve only wants to impress his ex with her. Of course, things get a bit more complicated as the story progresses, but it only shows that even ideas that actually don't seem to work on paper are successfully implemented in "Table for Six". In addition, it's a good thing that the movie knows when it should take itself seriously and when it shouldn't. If a scene gets too gloomy, the lively soundtrack usually immediately balances things out, or someone cracks a joke. The humor is mostly based on puns, which is why some of the jokes sadly get lost in translation, but you'll happily accept that if it means that you don't have to deal with cheap slapstick.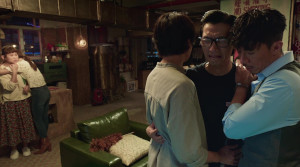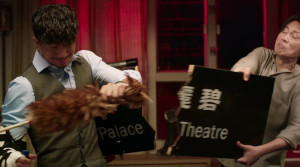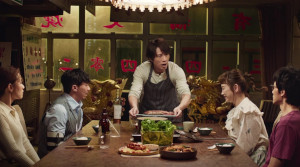 For those who are interested in food, there is also a richly set table, which will make your mouth water thanks to the beautiful cinematography. At said table, there are also some discussions which show that the movie's script is its biggest strength. Nevertheless, director Sunny Chan could have shortened the movie a bit. Towards the end, the serious conversations might happen a bit too frequently, and the already somewhat scattered focus gets lost even more. Ultimately, though, "Table for Six" is a mature comedy which manages to get by without any unnecessary slapstick moments and which is also partly a relationship drama that knows how to utilize its characters. And nowadays, that's a rare thing coming from Hong Kong. You can't deny the fact that the movie is strongly influenced by Hong Kong's culture, and you may therefore miss some allusions, but Chan manages to avoid giving the audience a culture shock. As a comedy, "Table for Six" therefore certainly deserves a thumbs up.
(Author: Manfred Selzer)