Dearest
Story: Tian Wenjun (Huang Bo) and Lu Xiaojuan (Hao Lei) are divorced and take turns looking after their son Pengpeng. One day, when Tian is supposed to look after Pengpeng, their son disappears. The parents are broken-hearted. Tian tries to find his son, but he constantly has to deal with conmen who are after the reward he posted for providing useful information. He can eventually persuade his ex-wife to join some meetings of a group led by Han Dezhong (Zhang Yi) whose members have suffered the same fate as them. However, three years after the kidnapping of Pengpeng the impossible happens. Tian is tipped off that his son is brought up in a village. Tian and Lu find Pengpeng and take him away from the alleged mother Li Hongqin (Zhao Wei). The police are called and it turns out that Li's deceased husband has kidnapped Pengpeng and Li herself apparently didn't know anything about this. Pengpeng doesn't recognize his real parents anymore and wants to go back to Li and his little sister, who is now taken to an orphanage since she probably has been kidnapped as well. But Li won't stop fighting for her children...


Review: At first glance "Dearest" seems to be a born-and-bred tearjerker revolving around a child kidnapping, but no matter how manipulative the film may approach the subject from the second half onwards the drama surprises with a twist that raises complex questions and forces the viewer to look at things outside of his morally safe boundaries. While at first the different emotions of the parents, their fears and hopes, stand in the foreground Li's appearance eventually introduces complex emotions and a profound moral dilemma. The price paid for this is that the film's focus during the last hour isn't put on one single story anymore, making the drama prone to falling apart. But especially Zhao Wei's outstanding performance can easily prevent this from happening.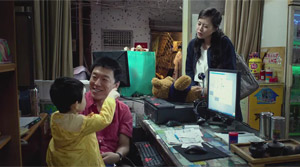 Normally, a plot synopsis should give away only the basic plot, but in the case of "Dearest" that would have been inappropriate, since that way certainly no interest in the actual core of the story could have been aroused. After all, the first half of the flick is very conventional and in fact tries too hard to squeeze some tears out of you. That doesn't mean that the drama featured is ineffective, but the strongly manipulative attributes of the movie can prove to be quite annoying. It becomes obvious that many dramatic scenes are technically very well crafted, but this fact is almost celebrated in too lengthy scenes and is also reflected in certain camera angles as well as a string-heavy soundtrack. Nonetheless, even during the simpler first half of the film it turns out that "Dearest" is more multilayered than you might expect at first.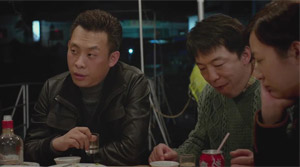 His panic-fueled search for Pengpeng naturally leads Tian, neatly portrayed by Huang Bo ("Cow", "Lost in Thailand"), to an emotional abyss, but his search also constantly makes him run into conmen who want to take advantage of his desperate situation in order to get their hands on the reward. Furthermore, he visits a support group whose head, fantastically played by Zhang Yi, shows others what it means not to give up, but himself is about to break down later on because Tian got his child back and he didn't. This subplot enriches the movie by a lot, even though as with most aspects in this drama, it can display its true strengths only during the second half. The scene in which Tian and his wife kidnap their son "back" stands as a turning point in "Dearest". The extremely stretched scene in which the parents holding their son in their arms run away from the desperatelly pursueing new mother will also make you anticipate that contrary to similar works we won't get a simple happy ending with this one.

Because even at this point it becomes obvous that Li's feelings for her son are real. The character that should be detestable actually gains our sympathy and it soon becomes clear that there won't be a solution that will make everyone involved happy. Pengpeng doesn't recognize his real parents anymore and wants to go back to his foster mother, who denies in a believable fashion that she didn't know about the kidnapping, but since she already lied during her first interrogation you can't really tell how believable her words truely are. There is another small girl, who apparently has been abandoned and then was taken in by Li who raised her like her own daughter, but the circumstances make an official adoption impossible, of course. Zhao Wei ("Painted Skin: The Resurrection", "The Longest Night in Shanghai") manages in an impressive manner to portray this complex character in such a way that we can really relate to her.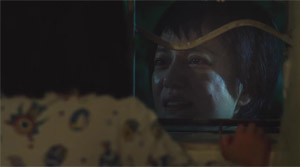 In terms of moral standards this gets the viewer into a catch-22 situation. It surely is risky of director Peter Chan ("Wu Xia", "Perhaps Love") to shift the focus during the second half and make Tian's story take a backseat. Accordingly, "Dearest" feels a bit chopped up, but it pays off. The profoundness the drama achieves surely doesn't need to hide from art house cinema, especially thanks to some small aspects like China's one-child-policy which are tackled. When the credits roll the film also shows the actors meeting the actual people behind this story, as the plot is based on true events. This may be interesting, but it once more underlines the manipulative nature of this drama which also ended up way too long with its 128 minutes running time. However, at the bottom line "Dearest" is a top-notch drama that in respects to moral standards features some nice brain food.
(Author: Manfred Selzer)