Lost in Thailand
Story: After long years of research Xu Lang (Xu Zheng) has finally developed a "super petrol". Only a few drops of his invention are enough to make the volume of normal petrol increase many times over. The possibilities of this new fluid are almost boundless, but in order to put it on the market he needs to meet with his boss. However, his boss is currently somewhere in Thailand. Althoug Xu's wife leaaves no doubt that she wants a divorce since Xu neglected his family a lot during the last few years, the businessman doesn't deal with this crisis and goes to Thailand instead. Still, he isn't the only one arriving in Thailand as his rival Gao (Huang Bo) is also there in order to beat Xu to finding their boss. Gao shadows Xu thanks to a bug in his cell phone. At the same time Xu runs into Wang Bao (Wang Baoqiang), a simple-minded young man, who wants to spend his holidays in Thailand. Xu takes advantage of Bao's naivity to give his rival the runaround. But because of his mental deficiency Bao constantly gets the businessman into big trouble...


Review: At first glance it is pretty obvious why "Lost in Thailand" was such a box office success. At a closer look it isn't, though. Still, one thing is for certain: The movie gives you the opportunity to escape everyday life and depicts the involuntary holiday trip and journey of self-discovery of a typical company man. Accordingly, many people of modern China and westerners will be able to relate to the movie. At the same time this isn't just a comedy that comes along with cheap jokes, merely standing out because of its popular Hong Kong stars. Maybe it's also this kind of variation that added to the movie's success. Still, at the bottom line it is the chemistry between the two main actors that makes this comedy work out so well. But sadly this doesn't mean that the movie isn't predictable, too.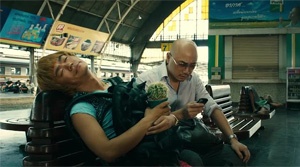 The unlikely duo Xu and Baobao are dependent on each other in Thailand, although first and foremost it's Xu who tries to derive a benefit from the relationship. At first this seems pretty easy as well since Baobao isn't the sharpest tool in the box and even needs to take medication against his mental incapacity. But his naivity and, you just have to tell how it is, stupidity over and over again put Xu into some sort of troube. And this even though Baobao doesn't want to do any harm. On the contrary, he is an absolutely likeable guy and sympathies are with him from the very get-go, because the selfish businessman, who once again is proof of how capitalist modern China really is when he verbalizes his thoughts about developing Baobao's business idea further, first needs to undergo some changes for us to actually suffer along with him.


The film's story is written according to a simple formula and as already stated it is pretty predictable. But it's the stupid chance occurrences and the events that are unfavorable for Xu that keep the pacing extremely high in "Lost in Thailand" and constantly manage to excite. While Xu's whole existence depends on the outcome of this trip Baobao just wants to enjoy his holiday and he does. The audience also shares the fun and of course Xu learns what's really important in life, although he might just be on the brink of despair several times. Because with every minute his actual goal is dissolving more on the distant horizon. The lightheartedness of the movie is instantly carrying you away and it's difficult not to have just a lot of fun and often be smiling thanks to the atmosphere.

The humor in the movie works out surprisingly well, too. There is no embarassing slapstick, although the humor is actually of a physical nature. Moreover, there are also some side blows on cultural differences and clichés, after all the events of the movie are taking place in Thailand. But there never is a doubt that this is a Chinese production. However, sometimes the jokes can also be seen miles in advance. But if that's the case you just can enjoy certain events like the water-splashing festival or paper lanterns ascending to the sky. You also can't get enough of the tropical nature shots. Consequently, you can easily forgive that the characters aren't fleshed out well at all and that particularly the ending turns out to be very predictable.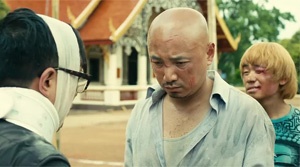 Actor Xu Zheng ("Love in the Buff") doesn't just play the lead role but also delivers his directoral debut here. Being the most successful domestic movie in China "Lost in Thailand" will certainly have earned him respect in the business. His directing is without flaws and gives the film some international flair. Also interesting to note is some very original cross-fading. Standing at Xu's side is Wang Baoqiang ("A World without Thieves", "Assembly"), who bestows a lot of charm on the movie. The duo Xu/Wang is very good, but it is also a well-tried one as they have already stood in front of the camera together for "Lost on Journey". With "Lost in Thailand" you will be entertained in a very lighthearted manner. That's a guarantee. Unfortunately, there is also a bitter aftertaste to it, because you won't get anything new or memorable here.
(Author: Manfred Selzer)