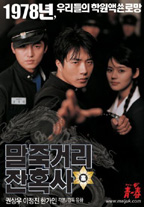 Original Title:
Maljukgeori janhoksa

South Korea 2004

Composer
Kim Jun-seok / Various






Spirit of Jeet Kune Do - OST
aka Once upon a Time in High School

Review: The soundtrack to the socio-drama "Spirit of Jeet Kune Do" proves to be surprisingly versatile and captivating. Apart from several hits from the 70s, there are also warm acoustic guitar pieces, sad piano tracks and sometimes even a bit of modern rap. All in all, simply a nice soundtrack to relax, but the sung pieces elevate the CD without a doubt above mediocrity and make it a definite recommendation.
Things start off with an excerpt from the main theme, accompanied by a monologue from the movie, until the track almost smoothly fades from the dreamy acoustic guitar piece into the next one, which has more energy thanks to the drums and Kim Jin-Pyo's rap.
"Graduation Tears" is a typical 70s ballad, which is very nice to listen to even today as the song has a nice melody and somewhat evokes a nostalgic feeling. Normally you would assume that this is an american title since the style of the song and the fluent English of the female singer lead to believe, but in fact the performer Chelsia Chan is a native-born Hong-Kongnese! Well I never!

Let's continue with Morris Albert and his "Feelings", an exceptionally sad song, which also has something bittersweet to it, though. With its modest use of strings, a piano and thanks to the emotional voice of Albert this song surely belongs to the better love ballads of the 70s. One of the CD's highlights.
Track number 5 is one of the monologues of the film, not the only one of this kind, interestingly enough this one is actually the radio announcement in the movie which introduces the next title "One Summer Night", again by Chelsia Chan, but this time in a duet with Kenny Bee. A beautiful ballad, too, which concerning its style made me believe that my mother should know it, but no. This song absolutely unjustly was only a hit in Asia, too.
The last one of the sung pieces is the disco-interpretation of the Neil Sedaka song "One Way Ticket" by Eruption. Well, I won't say much about it, let's just say that our parents, as we do nowadays, also had pretty embarrassing disco songs to which they danced to. This is one of them.

With track 8 (Hyun-soo's theme) Kim Jun-seok delivers a warm, but also somewhat sad acoustic guitar piece which is again featured in track 20 in a more cheerful version, thanks to a nice beat which gets a nice variation because of the piano used. The "Love Theme" in its guitar version is very slow, contemplative, but in a way as if you were thinking of your secret loved one. Moving, but also just perfect to relax.
Track 10 is a special extra, as actor Kwon Sang-Woo himself sings the love song that every wanna-be guitar player learns first when dealing with mastering this instrument. Kwon's voice may win a good position in a local karaoke contest at best, but nothing more. Still, it's a nice song.
After that we have another dialogue from the movie, underscored by a warm love-motive played by a oboe. The next track also wants to create a warm, fuzzy feeling in your stomach, but this time strings are in the foreground.

Furthermore, the soundtrack contains piano versions of some of the sung pieces, which I particularly liked. "One Summer Night" is even the more sad and slowly played than the original and "Graduation Tears" as a track for underscoring a drama also makes a fine figure with its piano and strings. Track 15 picks up the love theme again, this time in a piano and strings version, which sounds even more saddening and conveys a feeling of lovesickness. One of the best tracks of the soundtrack. After that follows a more somber acoustic guitar piece, which also has something blues-like to it. What follows in track 17 is some mere drumming sounds which may have served the purpose of building up some tension in the movie, but by itself has almost no real right to exist. Only towards the end the track fades into Hyun-soo's theme. Track 21 is of the same kind, yet underscored by a more melodic tune underlining the emotional scene when Hyun-soo lets off steam in a fight on the rooftop of his school.

Towards the end, there is the love theme of the movie once again, this time in a piano version. Very nice, too. After that, in track 25, we get the dialogue at the end of the movie, including the "Wong Fei Hung" theme of the "Once upon a Time in China" series! This is true intertextuality in a movie, I'd say...
At last, there is the main motive already played at the beginning. The quiet guitar motive gets more rock-and-roll like and after a small break fades into something like a bonus track. The same song, just more fast-paced and the style somewhat remembers me a bit of a country music piece.
Those who like to listen to dreamy soundtracks of love dramas - because to a certain degree "Spirit of Jeet Kune Do" is just that, too - but normally think of these OSTs to be rather one-sided, will find this one to be a good choice as the 70s hits deliver some good variety to dream the day away.




Copyright © 2009 AsianMovieWeb

Track listing

01. 1978 Nyun, Mal Jook
&nbsp &nbsp &nbsp Guh Ri Eh Gi Uk
&nbsp &nbsp &nbsp (Dialogue) - Kwon
&nbsp &nbsp &nbsp Sang-Woo
02. Hak Gyo Eh Suh Bae
&nbsp &nbsp &nbsp Oon Gut - Kim Jin-Pyo
03. Graduation Tears -
&nbsp &nbsp &nbsp Chelsia Chan
04. Feelings - Morris Albert
05. Seo Geum Ok Eh 'eve
&nbsp &nbsp &nbsp Eh Yun Ga'(Dialogue)
&nbsp &nbsp &nbsp - Seo Geum-Ok
06. One Summer Night -
&nbsp &nbsp &nbsp Chelsia Chan With
&nbsp &nbsp &nbsp Kenny Bee
07. One Way Ticket -
&nbsp &nbsp &nbsp Eruption
08. Hyun Soo Eh Theme
09. Chot Bool (Love
&nbsp &nbsp &nbsp Theme Guitar Ver.)
10. Ee Roo Uh Jil Soo Uhb
&nbsp &nbsp &nbsp Neun Sarang -
&nbsp &nbsp &nbsp Kwon Sang-Woo
11. Chuh Eum Man Nat
&nbsp &nbsp &nbsp Seul Ddae (Love
&nbsp &nbsp &nbsp Theme Clarinet Ver.)
&nbsp &nbsp &nbsp (Dialogue) - Kwon
&nbsp &nbsp &nbsp Sang-Woo, Han Ga-In
12. Sarang Ee Da Ga Oh
&nbsp &nbsp &nbsp Neun Soon Gan (Love
&nbsp &nbsp &nbsp Theme Strings Ver.)
13. One Summer Night
&nbsp &nbsp &nbsp (Piano Solo Ver.)
14. Dduh Nan Eun Joo
&nbsp &nbsp &nbsp (Dialogue) - Kwon
&nbsp &nbsp &nbsp Sang-Woo
15. Woo San Sok Eh Geu
&nbsp &nbsp &nbsp Nyuh (Love Theme
&nbsp &nbsp &nbsp Full Ver.)
16. Too Suh
17. Woo Shik Eh Gyul Too
18. Ing Yuh In Gan 1
&nbsp &nbsp &nbsp (Dialogue) - Kwon
&nbsp &nbsp &nbsp Sang-Woo
19. Ing Yuh In Gan 2
20. Nae Ga Hae Ya Hal Il
21. Chwe Hoo Eh Gyul
&nbsp &nbsp &nbsp Too
22. Ah Buh Ji (Main
&nbsp &nbsp &nbsp Theme Piano Solo
&nbsp &nbsp &nbsp Ver.)
23. Graduation Tears (Eun
&nbsp &nbsp &nbsp Joo Wa Eh Jae Hwe)
24. 1 Nyun Man Eh...
&nbsp &nbsp &nbsp (Love Theme Piano
&nbsp &nbsp &nbsp Solo Ver.)
25. Sung Ryong Wa Lee
&nbsp &nbsp &nbsp So Ryong (nam
&nbsp &nbsp &nbsp Ah Dang Ji Gang)
&nbsp &nbsp &nbsp (Dialogue) - Kwon
&nbsp &nbsp &nbsp Sang-Woo, Park
&nbsp &nbsp &nbsp Hyo-Joon
26. Main Theme


Running Time = 57:45




Buy this soundtrack
at AsianDB.com