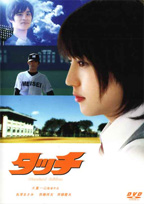 Original Title:
Tatchi

Japan 2005


Genre:
Drama, Sports, Romance
Director:
Isshin Inudo
Cast:
Shota Saito
Keita Saito
Masami Nagasawa
Seiji Fukushi
Nozomi Ando
Jun Fubuki
Hirotaro Honda
Shinsuke Hiratsuka
Fumiyo Kohinata
Tomoko Ikuta
Fuuma Uehara

Touch
Story: The two twin brothers Kazuya (Keita Saito) and Tatsuya (Shota Saito) are friends with the girl Minami (Masami Nagasawa) since their childhood days. The three are doing everything together so that their parents even build a playhouse for them in which they live even when becoming adolescents. From early on the two share a common fascination for baseball and so the two brothers promise that they will become so good in that sport that they can take Minami to the baseball-tournament at the Koshien stadium. Kazuya becomes an impressive pitcher in his high-school team but the not less skilled Tatsuya suddenly turns to a different path and is now more interested in boxing. It is obvious that Tatsuya is taking a backseat for his brother as both of them have feelings for their friend Minami. But despite all the efforts on Kazuya's part Minami is more interested in Tatsuya. When fate prevents Kazuya from keeping their shared promise his brother has to shoulder the burden and train to become a great pitcher again.


Review: There are manga adaptions that aren't easily recognizable as such. "Touch" is based on Mitsuru Adachi's manga and an anime series that followed in the 80s and centers around baseball as well as growing up. Unfortunately, sport movies aren't for everyone's taste and so you surely need to have at least a bit of interest in baseball in order to really get your money's worth. The problem is that evidently interesting characters have been portrayed just too simplified for this 2 hours movie and the story itself also looks rather compressed which is especially striking at the end. Because of this the film doesn't succeed in touching the audience the way it apparently must have been intended by the filmmakers. In the end, this prevents "Touch" from becoming more than pleasantly average and this even though the viewer can actually sympathize with the characters.

At first it's difficult to keep the two brothers apart, but they are after all different enough that with time we learn to make out differing character traits on them. Tatsuya is the actual tragical figure here, since he gives Minami a miss for his brother and because of that also gives up his career as a baseball pro. Being somewhat desorientated the boy tries to get a foothold in the boxing sport but can't be as successful as he wishes to be. Kazuya on the other hand is successful and the star of his baseball team. However, what's really tragical is the fate of Kazuya, especially considering all the efforts of his to win over Minami. Her heart, however, already belongs to Tatsuya, who in turn is holding back his feelings out of respect for his brother. Problems are about to arise.

Still, those who expect that Minami drives a wedge between the two brothers will be surprised to find out that their friendship is too strong for this to happen. Thus, there are your typical problems but it never comes to a real quarral between the two brothers because for this they love each other too much. The actors play their parts convincingly and along with the screenplay they are making sure that the story never gets lost in maudlin. In the beginning Minami, played by Masami Nagasawa, more or less stands in the center of events and she is also the actual appealing figure because of her innocent and loveable nature. Sadly, she is unnecessarily shoved to the back towards the end and the screen almost solely belongs to Tatsuya after that. Most likely because of the necessity of a final baseball match, but somehow this is still troubling.

Naturally baseball doesn't play a minor role in the movie. That is also the biggest point of criticism since what may work out in a manga because of its more wide-scale possibilities to elaborate characters becomes quite difficult in a movie. To draw characters and their relationships and additionally please baseball-fans is almost impossible in the restricted framework of a movie and "Touch" has to struggle with some difficulties in these respects as well. I would have liked to see less baseball and more of the characters while fans of the sport may be thinking quite contrary. In any case, and that's simply a statement from me without actually knowing the original, some of the originally colorful characters fall by the wayside. Tatsuya's rival, who is looking for a challenge on the field, could have been as interesting as an individual as Tatsuya's boxing friend. But the film simply doesn't have the time to further develop such supporting characters appropriately.

There are in fact some moving scenes to be found in the film, but they aren't numerous. One of the most effective moments involves the mother of the twins and a littly boy, though. In this scene it becomes apparent what potential is hidden in "Touch" but it sadly is seldomly made use of. At the end you actually feel as if simply having seen a few episodes of a tv series. An appetizer that makes you want to see more of Minami and the two brothers. If that was the intention of "Touch", that is to be a long-running commercial for the original, then the movie has to be called successful. As a work on its own this baseball drama that stands out with a pleasant heart-warming atmosphere throughout lacks depth, though. Those who are interested in baseball may add another point to my overall rating. At the bottom line "Touch" is a delightful drama that simply didn't fully suit my taste.
(Author: Manfred Selzer)