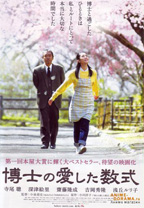 Original Title:
Hakase no aishita sūshiki

Japan 2006


Genre:
Drama
Director:
Takashi Koizumi
Cast:
Akira Terao
Eri Fukatsu
Takanari Saito
Hidetaka Yoshioka
Ruriko Asaoka
Hisashi Igawa

The Professor and His Beloved Equation
Story: In his first lesson the young mathematics teacher Root (Hidetaka Yoshioka) tells his class the story about how he fell in love with math. His single mother Kyoko (Eri Fukatsu) worked as a housekeeper and had been hired by the sister-in-law (Ruriko Asaoka) of a math professor. The professor (Akira Terao) was a difficult case as he could only remember things for about 80 minutes since he had an accident. After that amount of time he forgot everything that happened after the accident again. However, he still pursued his beloved passion of mathematics. Even though Kyoko had to introduce herself to him every day anew she slowly growed fond of the man and he even insisted that she brought her son (Takanari Saito), whom he named Root, to work. As time went by ties of friendship between Kyoko as well as her son and the professor started to grow. The three are connected by their love for baseball and Kyoko and her son start to understand the beauty of math, too.


Review: Mathematics is steeped in a kind of clarity and universality that can in fact be put on a level with beauty. Those who don't want to believe that will find proof in "The Professor and His Beloved Equation". This quiet drama about a sick professor who is forced to live solely in the here and now stands out with some wonderfully touching moments, believable emotions and a life-affirming atmosphere that doesn't lack a certain kind of magic. The magic of numbers. However, you certainly don't need to be a math student or have been good in school in order to get enthusiastic about some of the featured numbers games and about the wonderful world of numbers. First and foremost the film is a heartwarming drama, though, which always manages to strike the right notes.

What's refreshing is that there is no unnecessarily tearjearking story woven around the professor's illness. Of course it is the groundwork for some more dramatic moments, but they aren't put to the foreground by force as it is constantly the case with many bad tearjerkers up to this day. The professor also isn't such an old fogey as one would think after the first meeting between him and Kyoko. On the contrary, he proves to be outstandingly likeable and fond of children. Moreover, he has a talent to make others get interested in him and his field of work. After all, mathematics also serves as a means of self-discovery and thus is made use of by the screenplay effectively to draw the emotional development of the characters.

The fantastic script is based on a novel by Yoko Ogawa and shows math as a concept that can be applied to life in order to get closer to the deeper invisible truths hidden in it. At the same time it is acknowledged that certain relations that have been found in math have no practical use whatsoever. Still, it is fascinating to watch the professor explain to us what amicable and perfect numbers are. It is as if secret truths of the universe are revealed to us, as if we found out about relations that are of extreme importance, but couldn't yet be integrated into the big picture of the world. These magical moments are brought to us thanks to credible characters that we soon start to grow fond of.

Director Takashi Koizumi - assisstant director of no other than Akira Kurosawa - who eventually made his own debut with "After the Rain" tells his tale in perfectly composed, serence pictures. His roots can be made out in a slightly out of place Noh-performance or in the wonderful shots of the professor's front garden at night. A nice soundtrack by Takashi Kako completes the good overall impression.
Akira Terao ("Ran") plays his part brilliantly, at times confused and quiet at others full of lust for life and excitement for his passion of math and baseball. He is connected to his sister-in-law, a woman who at all times has something noble and graceful about her, by a background story he shares with her which is subtly woven into the movie. Yet, despite this subtlety there is no question left unanswered at the end.

Eri Fukatsu ("Villain") plays the goodhearted single mother who makes friends with the professor without making the impression that she might search for a father figure in him. This unusual friendship which is conveyed believable at any time is also the centerpiece of the film and is capable of overcoming any kind of test. The story is sometimes minimalistic but enchanting and full of heart. The nice cinematography and the great actors send shivers down your spine, when the circle to self-discovery and problem solving has been closed through mathematics, as it is typical for dramas that do everything right by treating the viewer honestly. No manipulative drama, but a slice of life that will make you rejoice is what you will get here!
(Author: Manfred Selzer)