Monstrum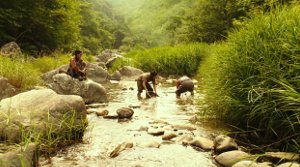 Story: King Jung Jong (Park Hee-soon) managed to come to power with help of the minister Sim Woon (Lee Kyung-young). Back then, Sim Woon took action against the population in the most gruesome way and slaughtered people under pretense of exterminating the plague. In doing so, he almost also killed a little girl, who general Yoon-gyeom (Kim Myung-min) managed to save. For this, the minister demands the general's head, but the new king lets his loyal subordinate go. Many years later, Yoon-gyeom lives with his friend from the king's guard, Seong-han (Kim In-kwon), and the little girl from back then, who has now grown into the young woman Myung (Lee Hye-ri), in a secluded area. They try to live off of hunting, but at the moment, there are not many animals to prey on. Word is that there is a monster roaming the area and striking terror into people's hearts by eating all animals and humans in these parts of the country. Eventually, a young man from the king's bodyguards, Heo (Choi Woo-shik), turns up and has orders to take Yoon-gyeom to the king. Jung Jong believes that the minister Sim Woon made up the monster and that not this monster but his men slaughter people to cause turmoil and therefore pave the way for dethroning the king. Even though the king assumes that the supposed monster attacks are in fact a political agenda of his minister, he wants to make sure and engages his former number one to get to the bottom of it all. With the next victims Yoon-gyeom actually finds evidence that humans are responsible for the murders. However, there are also signs that indicate something completely different...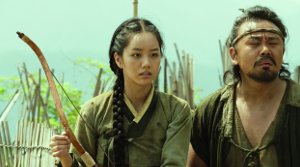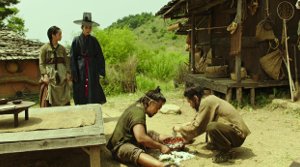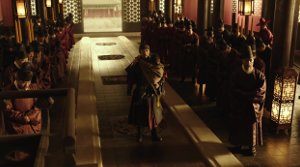 Review: It is hard to think about Korean monster flicks without immediately mentioning "The Host". Since then, nothing much happened in the subgenre, and except for maybe the forgettable "Sector 7" there has barely been any other movie from this genre. There might be various reasons for that, but primarily it is because a monster costs a lot of money. In addition to the wages for famous actors, of course. With an estimated budget of 9-11 million dollars, we have to ask ourselves whether it is actually possible to create a convincing monster with that "little" money. Trying not to give away any spoilers, it should be clear, though, that - given the movie's title - you can't deny the audience a flesh and blood monster and instead make humans the real monsters. However, "Monstrum" actually tries to do the latter and at the same time it wants to stay true to a classical monster movie. Astonishingly enough, "Monstrum" manages to be pretty entertaining in doing so. Nevertheless, this will not make you overlook some of the movie's rather obvious shortcomings.


After more than 50 minutes, we get to see the monster - and disillusionment ensues. The special effects are not always convincing. The creature looks like an oversized dog (breed: Shih Tzu?) with thick fur and numerous boils caused by the plague. In general, the monster is portrayed in a pretty convincing way, but during sequences in which it has to interact with its surroundings, you can see the budget's limits. Especially during our heroes' first flight sequence from the monster you can clearly make out that the entire cave is just a green screen. Nevertheless, it has to be pointed out that the CGI, in general, is not necessarily bad, and this is why this particular scene stands out so much. As to the rest, the movie is surprisingly amusing. The story's heroes may be rather forgettable, but the chemistry between them works and this saves all those scenes between the action sequences which you would otherwise not really have cared for.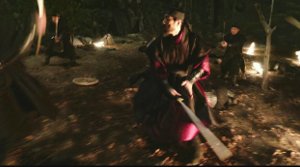 Despite a rather long introduction, the action does not come up short. Especially in the middle a scene stands out which convinces with a surprisingly well-choreographed fighting sequence, even though the camera work does not manage to capture everything the best way possible because there are attempts at rather experimental camera work. The huge amount of blood and body parts we get to see here is also pretty unusual. Most of the time, we only get to see the end results of the monster attacks, so that "Monstrum" does not seem too bloody, but this also means that we do get so see a lot of severed body parts. All the more surprising then, that the movie manages to put a humorous tone to a pretty dark world riddled with intrigues and monsters. Once more Kim In-kwon ("Revenger") takes on the role of the clown, which can be quite annoying at times. But at least, this time, he is a real warrior, who at least sometimes knows when to take a situation seriously.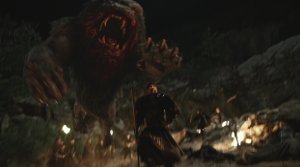 The reason for the movie's unbalanced mixture of action, horror, thriller and humor might lie in director Heo Jong-ho's ("Countdown") wish to win over a wide audience. This backfires, though, and focusing on the horror and the intrigues at court instead might have made for a more grown up movie. Instead, we now get an action flick which simply wants to entertain. This is most obvious with the unjustifiable ending, which absolutely contradicts itself. Kim Myung-min ("Countdown") depicts a reasonable hero. Yet, he remains so two-dimensional that the general might as well have been portrayed by any other actor. Nevertheless, we do get the feeling that the three protagonists are a family, which does not necessarily turn this fight for survival into a thriller, but at least it comes along as a decent adventure movie.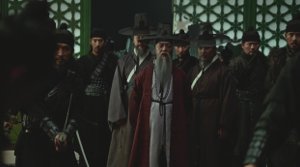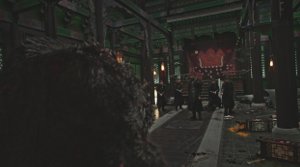 What's appealing, though, is the political focus in respect to the power play at court. The director should have used more of that. That being said, the balance between political thriller and monster movie could easily have turned out worse, too. I guess, that's something to be thankful for. In addition, "Monstrum" is considerably more gripping than most Korean movies set in the Joseon-Dynasty. In those moments when the movie gets more serious and places a special emphasis on both the monster and the minister making a bid for power, the flick also manages to create a fascinating atmosphere and this genre mix actually works quite nicely. However, the humor and the adventure aspect are a bad match for "Monstrum". But at the same time, it's surprising how amusing the movie can get. And maybe you will also be surprised by the fact that after the credits roll, it takes just a few days to completely forget about the movie. Unfortunately, that's the result of a badly chosen or rather utterly missing focus.
(Author: Manfred Selzer)