Love Fiction
Story: Joo-wol (Ha Jeong-woo) is a writer and is suffering from writer's blockade. Since he has only written one novel to date and at the moment isn't getting anywhere with his new one he works part-time as a bartender. His friends advise him to finally find a girlfriend since then ideas for his novel would easily come knocking on his door. After all, every writer needs a muse. During a small trip to Berlin he meets photographer and film importer Hee-jin (Kong Hyo-jin). Joo-wol can't get the woman out of his head and back in Korea invites her to dinner. But even after a second date the writer simply doesn't know what she thinks of him. He puts everything on the line and confesses his feelings to her. The two get closer and eventually become a couple. But soon Joo-wol realizes that his girlfriend doesn't shave her armpits. That's just the first of her pecularities that inspire him to write a story. Soon he sees more and more character traits that bother him. It doesn't seem that natural to him anymore that they will stay together forever...


Review: Director Jeon Gye-soo has had a tough time finding a producer for his movie since his romantic comedy seemed a bit too demanding and multi-layered for an audience that normally likes to consume shallow rom-coms in cinemas. This should already give you a small idea what you should expect of "Love Fiction". The movie is a notably serious glance at love and the different stages it goes through. The director works in his motives in a very mature way and by that will also manage to appeal to those who aren't into rom-coms. However, because of its honest approach to the subject of love the movie isn't just in need of humor, but also of a good portion of drama.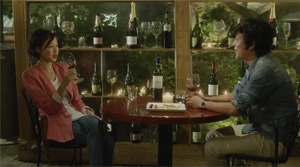 Surely I would be the first in line to get worked up if "Love Fiction" had ultimately headed into the direction of one giant tearfest, but things aren't like that. It's more that the romantic flick struggles with trying to be multi-layered on the one hand - with questionable success - and on the other hand displaying an aimlessness that at times can be tiring. But that's the risk all movies run when solely having a relationship driving things forward. This is why the story is mirrored in worlds of fiction, too. Joo-wol transfers his private life to paper and by doing so gives us more insight into his psyche than we would get normally. Because even though the plot is told solely from his angle we would lack a lot of information about the inner works of his character without this approach.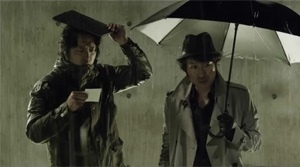 Ha Jeong-woo ("Kundo: Age of the Rampant", "The Berlin File") isn't really your typical face in a romantic flick and this actually brings some fresh breeze into the film. It's also nice to witness not just Joo-wol, but also Hee-jin, played by Kong Hyo-jin ("Crush and Blush", "Memento Mori"), undergo some character development in the course of the movie. The dynamics of the relationship are also a reason for that. Yet, the more the two get to know each other the more the magic of love fades away and where you once bent in order to appeal to your partner you now blame your partner for making you do so. But at the beginning of the relationship Hee-jin already hints at that nothing lasts forever and it seems as if she wants to dodge the magic of falling in love because she wants to elude disappointment sometime later.

The writer on the other hand is less experienced and is actually looking for a girlfriend because he wants to get rid of his writer's blockade through her. Thus, it's standing to reason that he forces the feeling of love simply on Hee-jin as an "object" he chose. Yet, as time goes by he starts to wonder why he doesn't really know anything about his girlfriend. As in the detective story he writes he then tries to check up on his girlfriend. But as soon as he starts to solve the mystery around her, and there isn't any particular twist to be found here, his girlfriend starts to get uninteresting to him. Since we are constantly looking at things from Joo-wol's perspective Hee-jin easily could have come across poorly, but luckily that's not the case.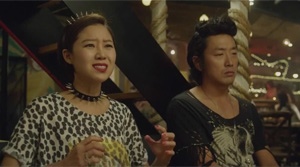 Nevertheless, it would have been desireable to get as much of a look into Hee-jin's psyche as into that of the writer. The conversations with his imaginary friend are after all quite illuminating. Moreover, another point of criticism is the story within the story which is introduced throughout. The bad sound and the artificial pictures are nice stylistic devices, but all of this at the expense of coherence. The film is an at times bumpy affair, which makes "Love Fiction", despite its mature tackling of the subject, not as convincing as it should have been. Thus, a few nice laughs, neat music and an appealing ending make it even the more aggravating that you can't recommend the movie without hesitation. However, the film is just the right choice for everyone who wants to watch a romantic flick that isn't just plain embarrassing.
(Author: Manfred Selzer)