Crouching Tiger, Hidden Dragon: Sword of Destiny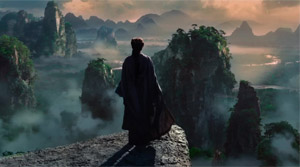 Story: Yu Shu Lien (Michelle Yeoh) attends the funeral service of deceased official Te, whose son has now taken over his duties. But like his father he faces a problem: the Sword of Destiny. The ruthless leader of a sect, which wants to bring the whole country under its control, Hades Dai (Jason Scott Lee), is told by a seeress that this sword is going to make him invincible. The seeress also advises him to send inexperienced young warrior Wei Fang (Harry Shum, Jr.) to steal the sword. But when Wei Fang wants to take the sword he runs into another thief. Snow Vase (Natasha Liu Bordizzo) is a guest at the house of Te and also wants to get her hands on the sword, since she wants to use it for taking revenge on Hades Dai. Wei Fang is captured and Snow Vase pretends to be the one who caught him in the act. However, Yu Shu Lien has a feeling that this isn't the whole truth. Even the more since Snow Vase asks her to be her teacher. The house of Te isn't a secure place anymore as Hades Dai will now do everything in his power to get the Sword of Destiny. Shu Lien asks the world of honorable warriors for help and Silent Wolf (Donnie Yen) answers the call, along with a few other warriors. He and Shu Lien are sharing a painful past, though...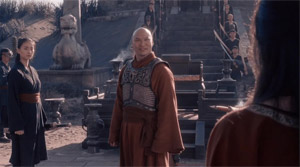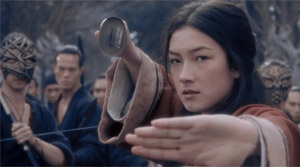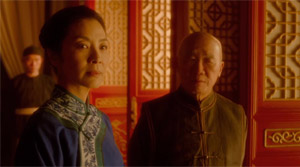 Review: News that the sequel to "Crouching Tiger, Hidden Dragon" is a big disappointment should have spread for a while already. On the other hand you need to ask yourself what you were expecting exactly? There are movies which are so great that they simply shouldn't get a sequel. And when fifteen years later a sequel finally did see the light of day and Ang Lee wasn't sitting on the director's chair it was pretty clear what the end result would be. Particularly, when apart from Chinese producers the movie is mainly funded by streaming service Netflix. To make a long story short: The sequel just lacks the poetry and magic that made the first part so unique and beautiful in every respect. Yet, if you are willing to regard this film as a movie on its own, not all of the bad reviews seem to do the movie justice.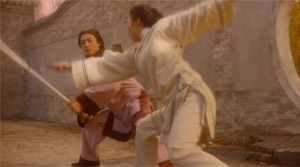 First off, I need to point out that "Sword of Destiny" without a doubt wants to make some quick cash. After all, the Weinstein Company is among the producers... as well as Netflix... Zhang Ziyi wasn't willing to reprise her role as Jen Yu if Ang Lee wasn't taking over the reigns. A wise decision. But Michelle Yeoh is back. And Donnie Yen ("Ip Man 3", "Kung Fu Jungle") joins the cast! So how bad could the flick really be? If you are just looking at the pictures you can't accuse director Yuen Woo-ping of doing a bad job. Especially in UHD they look phenomenal. Yuen, who was already responsible for the fantastic fight choreography in the original movie and once again proves his talent in this line of work, manages to present us with a few very nice landscape shots and sets, which capture the epic scope of this jianghu-story around chivalry and outcast warriors in a nice way. But...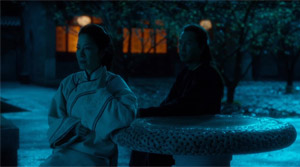 ... But sadly the film lacks the depth and poetry of the first installment which not only the pictures were responsible for. Yuen Woo-Ping himself already has quite a few movies on his résumé ("True Legend", "Tai Chi Master"), but he isn't known for his works to have a philosophical nature. But that's actually what the original movie was about. And it's the big issue you will have with the sequel. Parallels to the masterpiece are too strong and are apparent in Snow Vase, who reminds us too strongly of Jen Yu, as well as the soundtrack, which may have been composed by Shigeru Umebayashi (and also includes a piano solo by Lang Lang as well as a song again sung by Coco Lee), but Tan Dun's themes from the first part are constantly rehashed and thus create feelings of nostalgia which simply remind us over and over again that this sequel is a total failure compared to the Oscar-winning picture.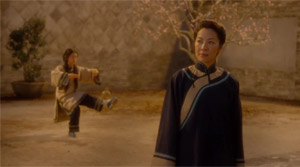 By itself the flick actually could be considered a nice wuxia flick, though - if it weren't for the English dialogue, which is just extremely irritating. The elements of a wuxia flick are apparent, however. We have a story that is based on the Crane Iron-Pentalogy by Wang Dulu and you actually feel thrown into the world of swordsmen and -women. Unfortunately, the supporting characters are drawn too shallow, even though they might be charismatic. And even Silent Wolf lacks depth. However, Michelle Yeoh manages to give her character the kind of grace and inner pain that reminds us of her original role. The two new characters Wei Fang and Snow Vase sadly take a backseat, although they in fact should have stood in the story's limelight. But naturally that wouldn't have been the way to sell a sequel. Also problematic is the villain, played by Jason Scott Lee, who just comes across as too much of a cliché. Apart from that the story seems too flat in general and is made more colorful by implementation of some unneeded fantasy elements for Western audiences.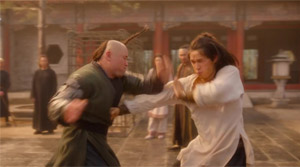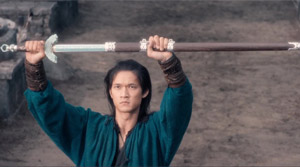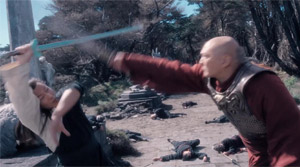 With regard to the fantasy elements we have to interpret one certain line of one of the characters essentially in the way that the Sword of Destiny is in fact Sauron's ring from "Lord of the Rings". This leaves a nasty taste in our mouths and it's also unnecessary since the actual wuxia elements are nice to look at. Especially a fight scene on a moonlit frozen lake manages to be memorable. The fight scenes are more numerous this time and look very polished so that martial arts fans won't find any reason to complain. But it's the motivation for the fights that is missing. The special effects are also worthy of praise and the finale is pretty nice action cinema. However, all of that can't make up for the fact that on an emotional level the movie can't even remotely be on par with the original. "Sword of Destiny" lacks the spirit and poetry of pictures that almost came close to enlightenment which made us love the story around Li Mu Bai and Yu Shu Lien. If you are looking at this picture as a wuxia flick standing on its own two feet - and that's very difficult - you will find a movie that actually isn't that bad, though.
(Author: Manfred Selzer)