Crazy Romance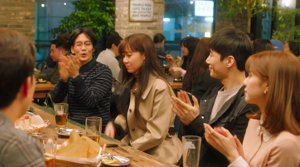 Story: Jae-hoon (Kim Rae-won) was supposed to get married, but his fiancée left him shortly before the wedding. Since that day Jae-hoon scrapes through everyday life. He goes to work at an advertising company and when his colleagues go out for a drink, he goes with them and continues drinking even after everyone has gone home. In fact, there isn't a day that he doesn't drink. Then one day, new colleague Seon-yeong (Gong Hyo-jin) is welcomed to the team. Her colleagues also witness her being proposed to by her ex-boyfriend. Jae-hoon then overhears Seon-yeong making it clear to her ex-boyfriend that it's over between them. Apparently he cheated on her and after that she also met a man for a short time. Jae-hoon is allergic to the casualness with which the new colleague apparently approaches her relationships. His pain still sits very deep. However, one morning he sees on his phone that the night before he talked to Seon-yeong for two hours when he was really drunk. But he can't remember what they talked about. The two drink together a few times and it becomes clear that Seon-yeong is dealing with the pain of break-up in her own way. Jae-hoon drowns himself in self-pity, but could the somewhat distant looking colleague actually relieve his pain? Are there even feelings developing between them, or are they just two hurt souls sharing the same path for a short while?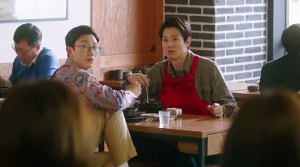 Review: Another romantic flick from Korea. At least that's what the somewhat funky title makes you think. In fact, the original title can be roughly translated as "The most ordinary romance" and that is more likely to be what you should expect here. Accordingly, I was pleasantly surprised. Instead of a weird, maybe even sassy female protagonist or a goofy male protagonist, we actually get characters taken out of real life who have well-developed personalities and can also show them in interaction with one another. You are presented with a romantic drama the way life writes it. There are no rose-tinted glasses through which you see new love blossoming, there are also many downsides. The focus here is disappointment and cheating, but also, despite everything, the need to fall in love again after all.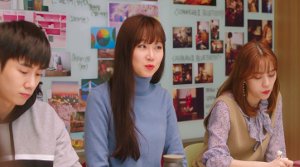 But it would be wrong to call "Crazy Romance" an unemotional love story. The two protagonists are disillusioned when it comes to love, Seon-yeong a little more than Jae-hoon, but Jae-hoon is already going there after having been extremely disappointed by his fiancée. The story itself actually plays a minor role. The two main characters just meet all the time to eat or drink. You almost get the impression of watching a Hong Sang-soo film, but in her debut director Kim Han-gyul does not give any in-depth insights into the thoughts of her characters, but simply lets the chemistry between them go to work. There are also a few scenes that allow us to dive deeper into their emotional world, even if it often can only be found behind shut doors.


The characters are portrayed likeable, but also with some quirks, by Gong Hyo-jin ("Door Lock") and Kim Rae-won ("Gangnam Blues"). As mentioned before, the most important thing in a film of this kind is the chemistry between the protagonists. Neither of the two seems like a cliché and their colleagues also seem believable and natural despite some stereotypical characteristics. Accordingly, everyday office life is captured convincingly. Since the story unfolds through the interaction between people, this also creates a good dynamic. Thus, things never get boring, even if one of the biggest weaknesses is actually the story. In fact, there isn't much happening. That would be fine, since the movie is about people and their feelings anyway, namely those that you carry with you in everyday life and not those that arise in extreme situations.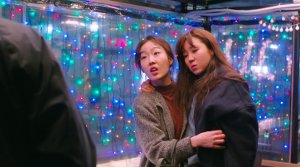 But then again, there is one aspect that seems too familiar. The many restaurant scenes or scenes in various bars will probably remind most viewers of KDramas. It just lacks the originality that one would expect with all the honesty at display in terms of feelings. At some point it is just too obvious that a new visit to a restaurant is only due because a certain conversation has to take place in the most "natural" manner possible in order to keep developing the relationship. This leaves a taste of mediocrity and that way "Crazy Romance" cannot achieve the level of authenticity that would have been possible. The characters are all really charming in their own way, the visuals are inviting too, and so we are immediately interested in the life and suffering of the two individuals at the center, but something that would give the film that special something is still missing. This is especially a shame because the film otherwise takes a grown-up tone in dealing with the subject of love.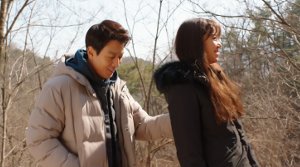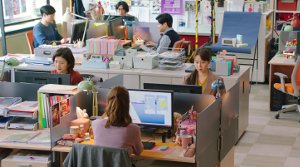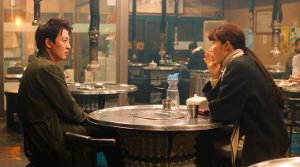 Somewhere along the way topics like social media and rumors in the workplace are dealt with as well, but everything remains at the surface. In essence, however, the romantic drama is about an interesting aspect of love: that despite all the disappointments and fears, and despite all the stupidities that are involved in the process of building a relationship, you always make the effort to get to know someone. While watching you are certainly entertained by this romantic drama and I thought to myself that there are still reasons to dedicate yourself to the genre from time to time. No embarrassing tears, nothing childish, lovable characters. Everything is very appealing and such a film can surely lighten the mood on dreary days. Unfortunately, shortly afterwards it becomes clear that "Crazy Romance" will not be remembered for long. It is difficult to say whether that is enough for a recommendation. But if you are not completely averse to the genre, you will not be disappointed here.
(Author: Manfred Selzer)