Bluebeard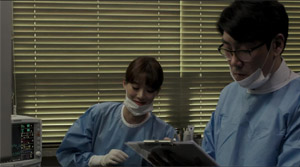 Story: Seung-hoon (Cho Jin-woong) is a physician whose medical practice in Gangnam, Seoul's posh neighborhood, has gone bankrupt, which is why he now works in a medical practice for colonoscopy. His wife broke up with him, he only sees his son every now and then and he escapes into the world of mystery novels. Then, a body surfaces from the depth of a river. The police assumes this to be the doings of a serial killer. When one day Seung-hoon has the old man (Shin Goo) of the butchery downstairs of his apartment building lying in his doctor's office that man starts talking about a murder under anesthetic. Seung-hoon may have to struggle with his private problems, but he spies on the old man and his son Seong-geun (Kim Dae-myeong), who also happens to be his landlord. When he then believes to see the head which the recently found body misses he is almost certain that he has found the killer. However, he still needs some solid proof. Seong-geun also seems to have an idea that the physician is after him and thus turns up near him on several occasions. When the doctor one day finds a bag with seemingly a head in it lying in his freezer he is only one step short of losing his mind.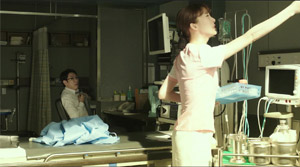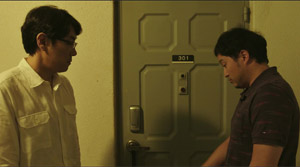 Review: Mystery-thriller always aim at giving the audience the runaround, yet for the same reason also struggle with a certain predictability. After all, at some point even the unpredictable becomes somewhat familiar. Therefore, it has been a good choice to build "Bluebeard" as a a character drama as well. The question constantly lingering in the air is in fact whether the protagonist is only about to lose his mind because of the circumstances or maybe was crazy to begin with. It's not that easy to get behind this since female director Lee Soo-yeo toys with the viewers' expectations and the pattern of a mystery thriller. When eventually all puzzle pieces take their place in the big picture there are still enough unanswered questions which actually make a second viewing obligatory.


What hints have already been scattered throughout the movie and have been interpreted wrong? Which ones of the many assumed plot holes can be explained after all? "Bluebeard" actually delivers material to actively work with as a viewer. But the start is a slow-paced introduction to the doctor's everyday life and his difficult family situation. We also get some pieces of the reasons why his family broke apart. Even though at that point we still don't know that there is a bit more to it, which we find out later. But since we get to know right from the start that a serial killer is terrorizing the neighborhood and the butcher from the shop downstairs is acting extremely strange there is always a seething tension kept up.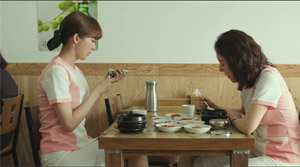 However, it also needs to be noted that you are constantly hoping that the story hinted at revolving around the killer turns out to be wrong in the end. Because otherwise there are no real surprises to be found here. Instead, you believe to be told one of those typical mystery novels the doctor likes to read so much. Naturally, we expect a surprising twist. But which direction this twist could head into is soon enough pretty obvious, too. Fortunately, the flick has a surprise in store, after all. Retrospectively, the script isn't really without any hiccups, even though there certainly has been put some thought into it. Yet, as already mentioned, there is the incentive to review past events at the end in order to make sure that you really got everything right. Not many thrillers can say they achieved that.


It surely doesn't hurt the movie that Cho Jin-woong ("A Hard Day") is the lead actor. He carries the hero's degrading mental stability with flying colors and so the level of tension rises with every passing minute the doctor's life spirals out of control. Kim Dae-myeong ("Pandora") on the other hand embodies an inscrutable and also kind of menacing individual as he always seems to be standing right behind the doctor. He knows that Seung-hoon somehow may have found out about him and even though this kind of raising the tension is rather genre-typical, it works just fine. So there is a clear focus on psychological horror which is supposed to make you sit at the edge of your seat. However, if you believe that things end here you are wrong. Because the film's last half hour is told in flashbacks. New information shifts the pieces of the puzzle in a completely different direction.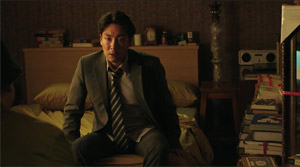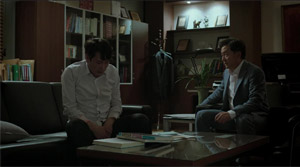 Still, it can be a bit tiring to see the events again, this time from a different perspective, but it's just this what makes the ending so special. Unfortunately, the movie loses a lot of its momentum here which up to that point has been constantly shifted up a gear. Moreover, the last scene seems unnecessary and takes a lot away from the picture's impact, but the dark images, the rarely, but still sometimes, featured surprisingly bloody imagery manage to score and the guess work concerning the protagonist's mental health and the danger coming from the assumed serial killer make "Bluebeard" a good genre entry which with its psychological horror-like style succeeds in offering something that makes it stand out from the many other thrillers from Korea. I can't help but be a little bit angry about how obviously we are sometimes given the runaround - there are blackouts, camera angeles which make us guess what we see - just to present a neat resolution in the end. This leads to the film feeling fragmented concerning its narration, too. And the resolution also seems a bit over the top. But as a thriller "Bluebeard" is actually recommendable.
(Author: Manfred Selzer)