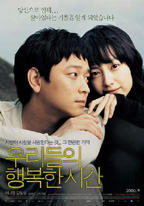 Original Title:
Urideul-ui haengbok-han shigan

South Korea 2006

Composer
Lee Jae-jin






Maundy Thursday - OST
Review: "Maundy Thursday" is one of those reserved soundtracks that can perfectly capture as well as underline the mood of a movie and at the same time manages to stand on its own feet as a musical piece of work. Composer Lee Jae-jin isn't an unfamiliar fellow either as he already proved with his debut work for "Failan" that his characteristic style matches the requirements of a romantic drama very well, even the more as his work includes sad as well as jovial melodies without ever going under in the standard soundtrack pieces of that genre. Lee manages to create dreamy melodies with simple synthesizer sounds and even though he didn't have an orchester at his disposal he turns this weakness into his strength by giving his synthesizer sounds a special touch. Therefore, it doesn't surprise that he also composed the score to "The Scarlet Letter" and "Rikidozan" before. The only thing that's unfortunate is that his works are always rather short.

The CD starts with a short monologue of Lee Na-yeong. There are only two tracks of this kind. The second piece is one of the main themes of the film, therefore it translates as "Our Happy Time". In track 8 and 14 it is picked up again for a bit. The piano plays a warm, dreamy and actually pretty merry melody which gets a more melancholic and sad connotation when the strings come into play. Towards the end the piano gets into the foreground again so that we get a nice mix of emotions, just the kind you would expect to be aroused by love. Happiness, warmth, but also an outlook on the more "negative" sides in the shape of yearning for example. Track 4 stands as the official main theme of the CD and actually goes into the same direction as "Our Happy Time". All in all the piece is less sad, but surely as dreamy. The love motive is brought to bear more than in the other tracks, thanks to a more obtrusive part of the piece, and is reused in track 11, too.

Song 5 is even a bit more sad without lacking the already mentioned warmth. As if you were going on a walk on a hot summer's day and think of your (ex-)girlfriend full of wistfulness. The motive is played by strings and is accompanied by a piano while in track 15 the more high sounds of some wind instruments carry the motive which doesn't really make the mood created more joyful, though. Track 6 "Confession and Our Happy Time" is a slow piano piece in the same fashion, only with track 7 "Journey" there is a breach in style as this track has a lot more up-beat character, also thanks to some drums, which makes it more cheerful and there is even a spherical female voice artificially created on the synthesizer that musically underlines this "Journey". "Blue Note", which is the title of track 9, 18 and 21, is a rather unspectacular piece, which lacks some real diversity, especially in its version in track 9, so that it can actually easily lull you to sleep. Nice background music in a film, but nothing new that could stand on its own as a musical piece of work. Only track 21 manages to move you as it works in an additional motive.

Track 10 is a bit more joyful again. There is an accordion in the foreground which gives the piece a somewhat french touch. A nice song which is still full of the same dreamy character that runs through all the tracks and which manages to easily put a smile on your face. The following track "Gift" actually reuses motives we have already heard before but combines them with a more quiet piano piece.
Track 13 is actually Frederic Chopin's "Etude in E 'Tristesse'", without any doubt a fine piano piece. I wonder, though, why track 17, Beethoven's "Moonlight Sonata", had to find its way into the film, because this piece of music has been used way too often already, so that it becomes almost cheesy to use it in a film nowadays.
Track 19 is a pretty short piece and induces the score's change of mood as the OST gets more sad from here on. Deep synthesizer sounds create a melancholic-gloomy mood that is going more in said direction in "That Man's Past", track 20 and 25, which are mainly responsible for the need of handkerchiefs during the movie, too.

In "Truth" (track 22) we get the same motive as in track 19, only that the strings are more into the focus this time. "That Man's Confession" is a string piece whose motive is played mainly by a synthesizer-created harp. A very sad, but enjoyable piece. "End of Happiness" (track 24) is some kind of transition which has something dangerous and foreboding about it. The last piece "Our Desire" rounds off the soundtrack in a nice way. Here, everything centers around the love theme again which is full of yearning and isn't that sad as the tracks before anymore but instead offers more warmth.
In the end, some themes in "Maundy Thursday" are repeated too often and as already said the running time is also a bit too short, but apart from that this is a nice, dreamy soundtrack full of longing and wistfulness that will be appealing to all those who already took pleasure in listening to Lee Jae-jin's work for "Failan".




Copyright © 2010 AsianMovieWeb

Track listing


01 . 유정의 대사 (이나
&nbsp &nbsp &nbsp &nbsp영)
02 . 우리들의 행복한
&nbsp &nbsp &nbsp &nbsp시간
03 . 윤수의 대사 (강동
&nbsp &nbsp &nbsp &nbsp원)
04 . Main Theme
05 . 마지막 시간의 길
&nbsp &nbsp &nbsp &nbsp#1
06 . 고백, 그리고 행복
&nbsp &nbsp &nbsp &nbsp한 시간
07 . 여행
08 . 그들의 이야기
09 . 블루 노트#1
10 . 행복했던 시간
11 . 선물
12 . 고통, 그리고 만남
13 . 이별곡
14 . 만나러 가는 길
15 . 마지막 시간의 길
&nbsp &nbsp &nbsp &nbsp#2
16 . 용서
17 . 월광 소나타
18 . 블루 노트#2
19 . 낯선 남자, 닮은 모
&nbsp &nbsp &nbsp &nbsp습
20 . 그 남자의 과거#1
21 . 블루 노트#3
22 . 진실
23 . 그 남자의 고백
24 . 행복의 끝
25 . 그 남자의 과거#2
26 . 우리들의 희망


Running Time = 45:35




Buy this soundtrack
at AsianDB.com