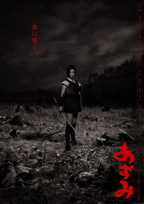 Original Title:
Azumi

Japan 2003

Composer
Taro Iwashiro






Azumi - OST
Review: As Kitamura's work delivers a great action-packed movie, that successfully combines the style of old chambara-movies with a modern cool look, Taro Iwashiro also manages to compose a good-working soundtrack-mix. A lot of heavy guitar-riffs were put in a rather classic surrounding, and in fact the e-guitar in duet with traditional drums is the focus of the music most of the time! What seems to be impossible to work, proves to be realized pretty good. Here, two different era clash and blend together in a beautiful musical symbiosis.

Besides the distorted guitar sound, there are quite a few violins, that accompany the musical motives. Moreover, there is a woman's voice, namely the one of Ganaha Mina, that adds to the music a fine etherial sound, every now and then.
Although the used synthesizer sometimes can't be missed, the music mainly stands out because of its beautiful sound. Especially the more classic and traditional pieces are the highlights of the CD. Above all, "Behind a dream" needs to be mentioned, that let's the listener get carried away by a lot of violins, flutes and a piano.
Mina's mournful voice does also charm us and takes us into a world of fantasy. Her search and yearning she expresses with her singing in this track is nearly tangible. The further use of Japanese traditional instruments already make "Behind a Dream" a reason to buy the OST on its own. Meditative-sad music at its best!

The more Pop-like "Heart to Heart" is a matter of taste, but not bad at all. The Theme-song "Negai" sung by Ganaha Mina is also quite nice, as it relatively stays within the scope/style of the rest of the soundtrack, despite its rather mainstream-character and a strong use of Scottish-Irish motives.
"The Guilts of Us" is one of the more rock-like pieces. Nevertheless, what's working quite well with this one, doesn't seem to work out for the nearly 11-minutes track "A Battle of Soul". The whole guitar sound and the adrenaline-pumping sound of drums does only come along with a minimal use of motives. As it is, there is no real recognizing of familiar motives and the track just passes by without meaning. The same goes for a few other songs, but most of them deliver enough alternation and above all pick up already used motives, that make listening a pleasure.

"In the Sense of Genuineness" along with "Outroduction before the new day" is of the same kind as "Behind a Dream". Rather soft and dreamy/sad it offers alternations of already used themes und gives us a joyfull shiver. Wonderful compositions.
Even though the more action-orientated pieces can be entertaining, they are also the tail lights of the CD, as the repetitive character and meaningless melodies have to be criticized. In the movie the tracks might be absolutely fitting, and they are great to recall the movie's images, but while hearing them on their own, they can be a little bit boring.

That doesn't matter anyway, as the emotional classic pieces and especially Ganaha Mina's voice will definitely charm the listener. Those who aren't sitting in front of their speakers relaxed and with a contended smile on their face while listening, can't be helped. Definitely recommendable!




Copyright © 2006 AsianMovieWeb

Track listing

01. Heart to Heart
02. The Guilts of us
03. Entrance to the Depths
04. Behind the Dream
05. Into the Sound of
&nbsp &nbsp &nbsp Darkness
06. Steps to Death
07. In the Sense of
&nbsp &nbsp &nbsp Genuineness
08. Outroduction before
&nbsp &nbsp &nbsp the new Day
09. On the Fates Field
10. A Battle of Soul
11. Negai

Running Time = 62:14