Venus Talk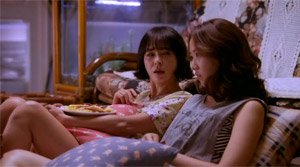 Story: Shin-hye (Uhm Jung-hwa) is a tv producer and single, although she is already in her forties. She has just broken up with her boyfriend who is now marrying another woman, because she got pregnant. For that reason Shin-hye is through with men, until one evening she spends the night with the significantly younger guy Hyeon-seung (Lee Jae-yoon). He doesn't want this to be an one night stand and would like to engage into a real relationship with her. While her friend Hae-yeong (Jo Min-soo) reproaches Shin-hye for her actions since they would be completely unreasonable the third friend of the bunch, Mi-yeon (Moon So-ri), thinks that Hae-yeong is simply jealous and that Shin-hye should enjoy life with her new boyfriend. Mi-yeon's children have finally moved out and so she can get sexually active with her husband (Lee Sung-min) again as well, even though he struggles with erectile dysfunction because of all the pressure by his wife. And Hae-yeon wants her daughter (Jeon Hye-jin) to finally move out, too, so that she can enjoy life with her new boyfriend (Lee Kyeong-yeong), although he doesn't seem to be interested in a serious relationship. However, each in their own way the three women have to cope with the fact that their days of beauty are slowly fading...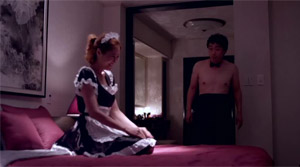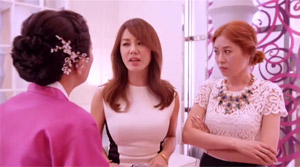 Review: "Venus Talk" looks just like a Korean version of "Sex and the City" - at least if you haven't really seen that show before. And in fact the movie is clearly tailored to a female audience, particularly that of women in their midforties. So there isn't truely a reason for a guy, especially if he is even a bit younger than forty, to be interested in the film. If it weren't for the three actresses, who without any doubt promise to deliver solid performances. Ultimately, it's just because of them that "Venus Talk" is successful in what it aims to be. You actually just should be aware that being among the targeted audience is required to get the maximum out of the film. Especially thanks to its very honest moments the movie will more appeal to women whose days of glory are already fading into the distance.


It has to be pointed out right from the start that next to the actresses its particularly the mix of honest illustration of life's problems and the humor or drama that sometimes result from it which makes the movie work out surprisingly well. This honesty that surfaces in the relationships and problems depicted soon remind us of "Singles", which should't surprise since Kwon Chil-in was the man behind the camera there as well. Kwon has a pleasant way of bringing things to screen in a natural way, by slowly letting them unfold before us. He seemingly achieves this through minimalistic directing, but also by keeping things under control during important scenes. And that's also exactly the reason why even those scenes work out that otherwise easily could have had the coating of a soap opera.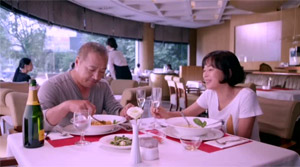 There aren't many of such scenes, though. Most of the time this is achieved by loosening up typical scenes, like the one of someone telling her friend about her illness, by giving them a special touch. After all, if two women suddeny lie in each others' arms crying while at the same time someone is hammering against the car window since one of the two friends hit a taxi, this manages to make you smile as well. Furthermore, this healthy mix succeeds in constantly making us doubt whether the individual stories get a happy ending or not. The director examines the women's lives in a way too realistic for us to imagine that everything will turn out fine in the end without any problems arising, as would be your usual path in a women's film. The individual stories in fact aren't designed for that. Thus, most of the time they are conveyed with the necessary sensitiveness.


At first the women's stories are displayed almost individually, only every now and then the three friends meet and chat about their problems. Towards the end the narrative threads seem to converge or rather the three women sit together more often. The cuts between the individual stories are neatly balanced, never making us stay with one of the female protagonists too long or too short. The biggest problem with narratives like this. The biggest plus of the movie are its actresses, though. Moon So-ri ("Oasis", "A Good Lawyer's Wife") and Uhm Jung-hwa ("Montage", "Bestseller") are beyond doubt great actresses and they once again prove that. But it's Jo Min-soo ("Pieta") who can stand out the most. Maybe that's because her story gets a bit more dramatic towards the end, which then again is just typical for a Korean movie.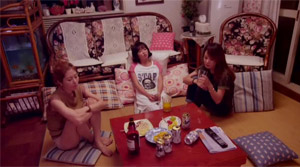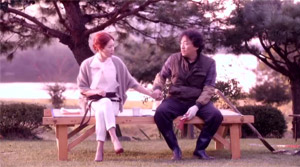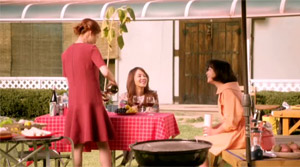 The picture constantly revolves around sex and the needs of women, which results in some nicely done comedic scenes as well. They never get sappy and even the few sex scenes that found their way into the film don't seem out of place or are focused on unnecessarily long. A few elements that are put into the center in regards to the romantic relationships seem all too familiar, but as already told even they work out fine thanks to the honest way the three women's lives is shed light on. The chemistry between the actresses is fantastic, it's just that as a man you have to deal with the fact that some things aren't meant for you to be a hundred percent comprehensible. At least you can guess. Since I'm not sure whether this is the reason for some of the things that didn't resonate with me I grant "Venus Talk" the benefit of the doubt. In any case, an enjoyable movie.
(Author: Manfred Selzer)