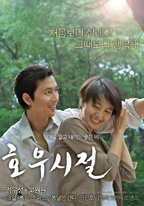 Original Title:
Howoosijeol

South Korea 2009


Genre:
Romance, Drama
Director:
Hur Jin-ho
Cast:
Jeong Woo-seong
Gao Yuanyuan
Kim Sang-ho
Ma Shaohua
Feng Yan

Season of Good Rain
aka
A Good Rain Knows
Story: Dong-ha (Jeong Woo-seong) works for an architecture company and travels to Chengdu to make sure that everything is in order. The company he works for restructures several buildings there after a devastating earthquake a year ago. By chance he meets an old friend who attended the same university as him. His friend, May (Gao Yuanyuan), is now working as a tourist guide and when she and Dong-ha see each other after such a long time they have a lot to talk about. Dong-ha was in love with May back then but after he went back to Korea and May to China he never replied to his former friend's letters. Together they travel into their past but Dong-ha must already fly back the next day. Dong-ha seems to have regrets that he never tried to have a real romantic relationship with May back then. However, it isn't too late for him to try this time but May responds rather cold to his careful approaches. Does she already have a boyfriend?


Review: One things needs to be made clear right from the start, "Season of Good Rain" is a really beautiful film to look at. Still, that's not enough. The bittersweet love story is mainly struggling because of two actors that look incredibly wooden since they need to talk in English because of the language barrier. Neither of them seems to feel good doing so and the acting achievements are also affected by this. Moreover, the film lacks that special something. It tries to be a bit of art-house-cinema, yet never manages to exceed mediocrety concerning the illumination of the relationship. On the contrary, at some points the scenes between the two main characters seems awfully uninspired. If you then also consider that the director of this movie is Hur Jin-ho disappointment has reached its maximum.

The greatesst masterpiece of the director is still "Christmas in August". "April Snow" has already been a disappointment, but his last film "Happiness" could again meet our now a bit lowered expectations. The problem here is that Hur Jin-ho deviates from his former style and apparently is aiming at delivering mainstream cinema. If it weren't for the story of "Season of Good Rain" which is so minimalistic that it needs to rely on the characters and their relationship. That's also what we are used to get from the director, but the two actors simply can't deliver. This is, as already stated before, because they need to talk in English. For Asians this is always a problem but while Gao Yuanyuan ("City of Life and Death") can at least somehow come to terms with the language Jeong Woo-seong completely blows it with his English.

Jeong Woo-seong ("The Good, the Bad, the Weird", "A Moment to Remember") is a rather reserved actor who makes up for his lacking ability of expressing himself on screen with his looks. However, in a movie by Hur Jin-ho that simply doesn't suffice. In his inner self different feelings are in disarray, at some points you can even guess what feelings they are but we could also be wrong about them. Also, his bad pronounciation makes it even likeable that the movie would become better in a dubbed version! Gao Yuanyuan can show some emotions in at least a few scenes, Jeong on the other hand just seems lethargic. This is why Kim Sang-ho ("Moby Dick") in a small supporting role as an annoying colleague, who feels lonely in Chengdu, actually manages to outshine both of them.

During that same scene with Kim Sang-ho it also becomes apparent that the director makes more use of humor in his film, too. This isn't really doing any damage, but Hur should have put more emphasis on the relationship between the two protagonists feeling true. In some scenes the two characters even seem pretty awkward, without the script demanding it from them. This is why the movie never gets any momentum. The chemistry simply isn't there between the two. How could it if the characters aren't elaborated right? We might have to wait quite a while before we can put together how the relationship between Dong-ha and May might have looked like before, but even then we don't have a full picture of it. However, on the other hand there isn't much effort involved in spotting the big twist of the film in advance.

The movie deserves some laudation for its dreamy shots of nature, the brisk colors and wonderful sets. "Season of Good Rain" is thus a good promotional film for the city of Chengdu. Unfortunately, the two main characters can't even win our interest when they stroll through the beautiful landscape holding hands. In addition there is a soundtrack that is made use of a little bit too much with its warm guitar sounds. "Season of Good Rain" is in fact a warm romantic drama, but it lightly floats along without stirring our interest. The ending might actually be somewhat conciliatory, but that doesn't change the blatant flaws which are mainly the result of the English language. That a multicultural movie can solve the problem of a language barrier in a more adept way is proven in "The Longest Night in Shanghai" for example. Hur Jin-ho simply disappoints with his newest work.
(Author: Manfred Selzer)