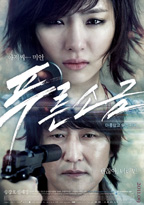 Original Title:
Pooreun sogeum

South Korea 2011


Genre:
Crime, Drama, Romance
Director:
Lee Hyeon-seung
Cast:
Song Kang-ho
Sin Se-kyeong
Cheon Jeong-myeong
Lee Jong-hyuk
Kim Min-joon
Yoon Yeo-jeong
Kim Roi-ha
Lee Jong-pil
Oh Dal-soo
Kim Jong-goo
Lee Kyeong-yeong

Hindsight
aka
Blue Salt
Story: Doo-heon (Song Kang-ho) is a former mob boss. At the moment he dreams of opening a restaurant at the sea and thus attends cooking classes. There he gets to know the girl Se-bin (Sin Se-kyeong) who he starts to get interested in. However, he doesn't know that Se-bin is a former sports sniper and even holds an unoffical record. Because of a loan she takes on different jobs, among them the task to spy on Doo-heon.
The current boss of the gangster organisation Doo-heon was once the head of is then hit by a car and eventually dies which leads to a power struggle in the inner circles. Since the others fear that the deceased boss has appointed Doo-heon as his successor in his last will there is the agreement to get rid of him. For this someone from the outside needs to be hired. Se-bin is chosen for this job since she can easily be forced to to do it - as her friend Eun-jung (Esom) tried to steal some drugs -, that is if she and her friend want to remain alive. However, Se-bin starts to have scruples as she and Doo-heon have gotten closer with time.


Review: It took almost eleven years until director Lee Hyeon-seung finally brought another movie to the big screen after his "Il Mare". Consequently, expectations were quite high. Naturally, they can't be met. But even without them "Hindsight" has still too many flaws to let it reach the kind of class that in fact would have been within its reach. The movie links gangster drama with a little love story and features two main actors that can carry their characters very well. Furthermore, the film also scores with beautiful pictures that at some point enchant the viewer with their cold nature, at others with a warm tone. Unfortunately, the story turns out to be too simple in its core and told in a too confused fashion.

The biggest achievement of the film is as always Song Kang-ho ("Secret Reunion", "Thirst"), of course, who plays a former gangster. It's not just difficult for Se-bin to imagine that this charismatic man was once one of the most powerful men of a gangster organisation who brought different groups at enmity with each other to the same table and thus built up something big. But these days Doo-heon just wants his peace and learn how to cook, even though he has absolutely no talent with that. Later on we get to see some scenes that prove that Doo-heon led quite a different life before, though. He knows how to deal with numerous attackers in a knife fight and he also is a good shooter. It's just that he apparently has completely renounced violence as he manages to never hurt anyone fatally. It's hard to imagine that he was the same back in the old days. How could he have built up an entire organisation without using violence?

Song Kang-ho's role charismatic role reminds us a bit of that in "The Show must go on". However, in "Hindsight" he is supported by actress Sin Se-kyeong ("Five Senses of Eros"). The young girl Se-bin, who isn't even half the age of Doo-heon, has to struggle with some demons herself. She has already experienced a lot in life, which also becomes obvious when we get to see the scars on her body later on, and this bestows a certain maturity upon her that you wouldn't expect of such a young girl. Accordingly, the romantic relationship between her and Doo-heon, that is subtly hinted at, isn't that unrealistic after all. Sin Se-kyeong manages to portray a pretty complex character despite her manga looks and succeeds in bringing the right chemistry to the screen alongside Song.

Of course the screenplay comes into full effect when there is no doubt left about Doo-heon having to die. Why exactly Se-bin has to execute this task remains questionable despite a few side plots and (unmotivated) explanation attempts. Naturally, this is supposed to get her into a very difficult situation and Sin can portray her inner conflict quite well. But this premise seems rather forced, especially since the side plots aren't told carefully enough and involve numerous supporting characters that are of no real interest. The different stories are told in such a confused manner that it becomes difficult from the second third of the movie onward to make out a thread running through all of them. At least it seems strange that at the end Se-bin's friend is used as leverage again, because who actually kills Doo-heon is of no real importance.

The pictures in "Hindsight" look great. The colors in Seoul are often kept in different shades of blue and have something sterile about them while the ones in Busan are all more dirty in tone. At the same time there are also a lot of warm colors, especially in those scenes that involve cooking. Doo-heon seems to be clinging to cooking as a means to fully leave his past behind, even though he never really makes the impression as if he has the need to do so. During those scenes there is also a more lighthearted tone coming to the foreground, which doesn't really fit to the rest of the film. The real problem of "Hindsight", though, is its trivial ending and the story being told in a convoluted way. Luckily, the two main actors manage to make the movie more entertaining as it would have been otherwise.
(Author: Manfred Selzer)