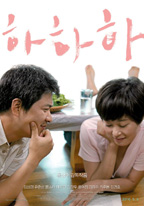 Original Title:
Hahaha

South Korea 2010


Genre:
Drama
Director:
Hong Sang-soo
Cast:
Yu Jun-sang
Kim Sang-kyung
Kim Kang-woo
Moon So-ri
Yeh Ji-won
Yoon Yeo-jeong

HaHaHa
Story: Jong-shik (Yu Jun-sang) and Moon-kyung (Kim Sang-kyung) get together before Moon-kyung is going to Canada for some time. They talk about what happened to them the last few weeks over some glasses of alcohol. Jong-shik is actually married but he falls in love with Ahn Yeon-joo (Yeh Ji-won) in the small town Tongyeong. The two have an affair but Jong-shik doesn't stand by his new girlfriend and also doesn't know how things are supposed to continue with his actual family. It isn't easy for him to come to a decision of what he really wants in life.
Meanwhile, Moon-kyung has fallen in love with the tourist guide Seong-wook (Moon So-ri) in the same town and follows her every move. However, she already has a boyfriend, the poet Jung-ho (Kim Kang-woo). But things aren't going too well between the two since Jung-ho is also chasing after other girls and can't enter a serious relationship. Even from his friend Jong-shik the poet doesn't get any sympathy. But at some point everyone needs to make a decision...


Review: If you want to dive into a complex world of relationships and flawed characters then Hong Sang-soo's movies are just what you are looking for. In his tenth film, for which the director earned the price Un Certain Regard at the Cannes Film Festival in 2010, everything is once again revolving around life and all the trials and tribulations involved. What you need to like about Hong's movies is the way he makes you share in the life of others. Even though the movie is very culture-specific it is easy to get access to it and the well written dialogues will win you over in no time. This time the director touches some philosophical questions again, but he also doesn't refrain from making fun of himself.

The two protagonists talk about their love stories in a small port town over some booze. While doing so they are captured in black-and-white freeze frames. You can think about that what you want but the rest of the movie isn't as alienating. Granted, at first it may prove to be a little bit difficult to make out who is in what kind of relationship with who - as is often the case with Hong's works -, after all there are numerous individuals and every one of them seems to know the other, but after some time you will manage to get around. The two stories that are told rotationally feel as if they are just one since the poet Jung-ho, friend of one of the narrators and rival on the battlefield of love of the other, serves as a link.

However, there are also countless other characters that make an appearance in both narratives and so the only thing that isn't credible concerning the story is that the two narrators never seem to be talking about any names in front of the other, otherwise the different relationships would have been clear to them. What distinguishes Hong's stories in general, and thus in this one as well, is the imperfectness of his characters. When it comes to aspects of love they are doing nearly everything wrong you could do wrong and therefore they look especially believable and vivid. Sitting in the audience you oftentimes happen to slap your forehead, but the heart can actually grasp the actions of the protagonists. Apart from relationships Hong is also shedding light on other aspects of life through philosophical reflections.

If you take a closer look at it every man in the film is a loser. Only the women have a real job and in many respects seem to be stronger than the men, but latter ones are often far more self-confident. Poets and dreamers who still haven't arrived in real life. Hong Sang-soo makes fun of them and by doing so of course also pokes fun at himself. This becomes especially apparent in those scenes in which he makes everyone philosophize which meaning a certain object or person has when you take away its/his/her name. The poet in "Hahaha" doesn't even allow describing for that matter and eventually questions everything there is without having any answer himself. He is blinded by the belief that he is brilliant. Those kind of caricatures are something you will find over and over again in Hong's movies.

It isn't just those caricatures that constitute the subtle humor but also some sappy moments that shouldn't be taken too serious. Among them are some tear-filled moments, in which the questionable acting of the cast can/is supposed to make you smirk. For someone new to Hong's movies it's probably difficult to get this kind of making-fun-of-himself but herein most certainly lies the key to get to the essence of Hong's works. Contrary to "Woman on the Beach" this time Hong seems to roughly know right from the start where he wants to go and the ending also shows that the director has grown. Moreover, you easily get addicted to the voyeuristic aspects of Hong's films.
(Author: Manfred Selzer)