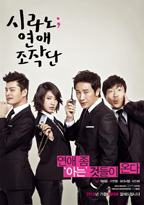 Original Title:
Sirano; Yeonaejojakdo

South Korea 2010


Genre:
Romance, Comedy, Drama
Director:
Kim Hyeon-seok
Cast:
Uhm Tae-Woong
Lee Min-jeong
Daniel Choi
Park Shin-hye
Park Cheol-min
Jeon Ah-min
Song Sae-byeok
Ryoo Hyeon-kyeong
Lee Mi-do
Kwon Hae-hyo

Cyrano Agency
Story: Byung-hoon (Uhm Tae-Woong) is the head of the Cyrano Agency, a group of former theater students that have made it their business to come to the aid of people in love and help them with their first dating attempts. Together with his co-workers he writes whole scripts for those in love, guides his clients through their dates with secret service methods and takes care that even when it comes to the weather nothing is left to chance. The Cyrano Agency creates the perfect moment so that clients have the best chance of success with their target person. Success proves the agency right, but Byung-hoon's next job comes with a problem. The agency is supposed to pair off Sang-yong (Daniel Choi), a fund manager, with the girl Hee-joong (Lee Min-jeong). Sang-yong knows her form church and to get close to her he is even willing to pay an enormous amount of money. Byung-hoon on the other hand wants that much pay because he actually doesn't want to take the job. That is because Hee-jong is an old flame of his. He constantly undermines the matchmaking efforts of his colleagues until Min-yeong (Park Shin-hye) gets behind Byung-hoon's secret.


Review: "Cyrano Agency" proves that not all steam has run out of the genre, yet. Contrary to so many other movies of this kind this one is actually oozing out inventiveness. The story takes Edmond Rostand's "Cyrano de Bergerac", which centers around a not really handsome protagonist who has fallen in love with a girl but doesn't think that he has any chance of winning her over and because of that helps someone else, who is interested in her, to conquer her heart. The role of the ghostwriter in "Cyrano Agency" is played by an agency that right from the start asserts that in reality there can't be any magical moments during a date as depicted in many movies because people are simply flawed and have no script at hand according to which they can make their next moves. Byung-hoon and his team change that and therefore create love as in a fairy tale. Also refreshing apart from this premise is the at times strong cynical tone of the film which prevents the romantic comedy from becoming slapstick work and also gives it space for some more serious moments. A mix that finally bears some fruits!

At the beginning we are introduced to the work of the team with the help of a case. At first no eye contact, play a little bit with women's curiosity, indirectly create intimateness, don't turn up at the first date, express your love in pouring rain, the Cyrano Agency doesn't leave out anything and shows you how to artificially build a love relationship without the "victim" being aware of it. Naturally you can't fully endorse the work of the agency from a moral standpoint as there are oftentimes brought together those who maybe just aren't meant to be a couple. However, the film doesn't take any detours with this, apart from a small scenes during which retrospectively the agency's involvement is revealed. That's just what gives the romantic comedy a cynical wink that is extremely refreshing. When after that Hee-jong enters the stage and we get to know that she and Byung-hoon were a couple before, we expect all the usual drama-like entanglements with all its clichés. Still, "Cyrano Agency" is a positive surprise in this respect as well.

Director Kim Hyeon-seok, who has specialized a bit in baseball films like "YMCA Baseball Team", but also brought a fine romantic comedy to the screen with his "When Romance Meets Destiny", toys with viewers' expectations towards a romantic flick and also adds a few nice twists without really becoming unfaithful to the genre. A certain tension is also constantly apparent throughout the film because considering the movie's title and the source material we are also reckoning that Byung-hoon maybe actually pairs off his ex-girlfriend for whom he still has feelings with Sang-yong. Everything is possible and apart from the many comedic moments there are also some serious moments that can be convincing since they are implemented very subtly, so subtly that you might ask yourself if this maybe isn't just a romantic movie after all. But the sarcastic nature of the movie and an all-apparant feel-good atmosphere leave no doubt that for director Kim the humor was also very important.

Besides initial secret service movie scenes that were simply carried over into a romantic comedy and thus once more underline the inventiveness of the film, there is also a bit of drama leaving its mark on the film when every now and then we take a trip into Byung-hoon's past with Hee-joong. It almost seems as if there is something between the two that won't let them be together. A tragical story that also has one or two interesting twists in store for the audience. Uhm Tae-Woong ("Handphone", "Chaw") manages to embody the professional boss of the agency but in the course of the film he becomes more unprofessional, almost childish when he has to help someone win Hee-joong over even though he himself would like nothing more but to give it a try with her once more. Lee Min-jeong ("Boys over Flowers") remains a bit passive as Hee-joong but she still plays her part very convincingly, especially in her scenes with Uhm. Daniel Choi as Sang-yong can't really win the viewer's sympathy at the start but that changes later on and was just intended that way.

One problem arises with the relationship between Hee-joong and Sang-yong, though, as it simply lacks chemistry. What exactly is the bond between the two except of Sang-yong adoring her from afar and Hee-joong falling for Sang-yong's words which he actually gets whispered in his ear by a prompter? In fact, nothing, and so this is once more one of those moments were you could pick up the unethical of the agency's work but "Cyrano Agency" leaves the audience no time to think about that and also doesn't waste its time with this subject. Instead we are rewarded with a bittersweet love story full of romance, drama and comedy that has a fascinating plot as a fundament which also doesn't lose anything of its appeal until the end. Technically the movie is well produced, too, interestingly enough there are some more unorthodox shots to be seen at some points concerning the camera movements. The choice of music pieces also fits very well to the movie and adds to the entertainment value. Does that mean that "Cyrano Agency" is recommendable? Definitely. Yes, I just wrote that a romance flick (!) is recommendable! So go and watch it.
(Author: Manfred Selzer)