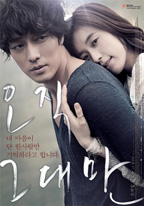 Original Title:
Ojik Geudaeman

South Korea 2011


Genre:
Drama, Romance
Director:
Song Il-gon
Cast:
So Ji-sub
Han Hyo-joo
Kang Shin-il
Park Cheol-min
Oh Kwang-rok
Yoon Jong-hwa
Kim Jeong-hak

Always
Story: Marcelino (So Ji-sub) is thirty years old and scratches a living with a few side jobs. One day he starts work as a night watchman in a parking garage when the blind girl Jeong-hwa (Han Hyo-joo) sits down next to him in order to watch a drama show. It turns out that Jeong-hwa had a friendly relationship with the old man who had the job before and that everything is a misunderstanding. However, Marcelino allows the blind girl to stay and so she visits him often to watch her drama show while she makes him tell her about the look of the actors and their clothes. The introverted Marcelino slowly warms up to her but when he has his first date with her he blocks real emotions. Marcelino is ashamed of his past as he has done some mistakes. But with time he learns to open up to his new girlfriend. Eventually, Marcelino visits his old boss again and asks him to allow him to earn his money as a boxer like in the old days. When suddenly the opportunity arises to heal Jeong-hwa's eyesight the boxer risks his life in a dangerous fight...


Review: Commercial dramas naturally promise to let money flow into the producers' pockets. However, "Always" is actually more of Song Il-gon's proof that he is also capable of making movies that are aiming for a wider audience. Still, this doesn't change the fact that the director who made his debut with "Spider Forest" delivers a pretty unoriginal piece of romantic drama here, which to make matters worse also makes use of all the clichés of the genre you could find. For most part this isn't that bothering at all if you can open up to movies of this kind since you get the "product" you are expecting at any point. So those who are looking for a tearjerker need not look any further. They will have a nice time with "Always".

Everyone else will be a bit frustrated since the polished look and the story, which borrows a lot of other works, seem like being constructed right at a drawing board. At first the story of a blind girl, who isn't willing to let her disability take away the fun in her life, and the quiet man, who seems to have a dark past, has something interesting and likeable about it, but by the time it turns out that the two are connected by an incident several years ago, everything becomes so implausible that you are almost imagining the scriptwriters right before your eyes as they discuss how to manipulate the audience to get the most tears out of them.

Manipulative dramas can work out very well nonetheless, if they aren't carelessly using fate as the driving force in the movie. "Always" solely works on exactly that level, though. Later on it becomes even worse and although you might understand the heartache the protagonists are suffering from it is still created in such an artificial manner that you are pulled out of the movie and are observing the events from the outside. This leads to a situation where you just need to shake your head considering that many clichés. The director works towards the last third of the movie very purposefully by splitting his drama into an introduction, a main part with a big twist and a last part with lots of tears featured.

Accordingly, the introduction is what plays the most faithfully. Marcelino, which is his baptismal name, hasn't achieved much in life and we are suspecting a dark secret lying somewhere in his past. When Jeong-hwa is molested by her boss at home he brutally beats the man up and even breaks his finger just to be sure that he will never try something like this again. Here, we realize that Marcelino was in fact a bad boy once in his life or maybe still is. This makes his character look more mulitlayered than it actually proves to be in the end. His past as a boxer and his return to this profession make us get a glimpse of what would have been possible in "Always" if the sport would have taken a more prominent role in the movie. Especially one fight toward the end is very dirty and brutal so that you can outright feel the adrenaline rushing through the veins.

"Always" wouldn't necessarily have to be a boxing drama, but it would have given the movie an interesting flair if this aspect would have been brought into the movie with more in mind than just showing So Ji-sub's well-trained physique to the female audience. The love story does work out quite well, though, as the chemistry between the two characters is just right. Especially at the beginning the relationship has something cute and innocent about it which almost cleanses the dark personality of Marcelino. "Always" has no real lengths, only at the end it loses itself in too much corniness. Ultimately, genre fans can't do anything wrong with this drama and you can't deny the fact that at some points the film can be moving, too, if it weren't for the director's obvious intention to achieve just that...
(Author: Manfred Selzer)