All About My Wife
aka
Everything About My Wife
Story: On a trip to Japan Doo-hyun (Lee Sun-kyun) meets the girl Jung-in (Im Soo-jung), who during an earthquake is panically running around through the streets. The two soon become a couple and marry. Seven years later Doo-hyun has no energy left. His wife is constantly talking and nagging. It's embarrassing for him to appear in public with her and she never leaves him in peace. He would like nothing more than to divorce her, but he is too much of a coward to do so. Thus, he begs his superior to give him a temporary job in a suburb away from Seoul. His wife believes that he is forced to take the job and seems to understand that he has to make this sacrifice. Doo-hyun's hope to be finally free proves to be deceiving, though. His wife is already waiting for him in the suburb. Desperate as he is Doo-hyun turns to his new neighbor Jang Sung-ki (Ryoo Seung-ryong) who is a Casanova and apparently can get any woman. He hires him to seduce his wife so that he can break up with her. At first, even Sung-ki seems to have trouble achieving that, but eventually he seemingly is successfull...


Review: It's in fact impossible to separate the wheat from the chaff only by looking at the poster and title when it comes to Korean rom-coms. So you never really know what to expect. A star-studded cast also makes no warrantor for a quality entry in the genre. However, "All About My Wife" actually counts among the few innovative movies of their kind, being entertaining as well as shifting relationship problems into the focus in an honest way. That the movie isn't really targeting a teenager audience is already apparent in the sole fact that it is centered around a married couple that needs to find out at what point exactly their relationship went into a direction that makes it a real pain for both to spend the day with the partner.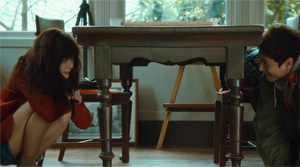 At first, sympathies without a doubt lie with the husband. Jung-in is constantly talking, she never keeps her mouth shut and doesn't even let her husband be when he is on the toilet. She permanently has something to rant about which also leads to some awkward scenes in the public for Doo-hyun. Thus, it's only understandable that he begs his superior on his knees to give him the job post in another town instead of his colleague. At the same time this also tells us how much of a coward Doo-hyun is, not being able to express how he feels in front of his wife. Yet, we pity him so much that we are even rooting for him when he is putting his ridiculous plan to get his wife seduced into action. It isn't a nice thing to do, but on the other hand Jung-in truely is an extreme pain in the neck.


Eventually, Jung-in gets a job at a radio station and there she has found a medium where her rants are more or less made use of in a productive way. The following approaches of the Casanova are at first everything but fruitful, but even that changes soon enough. What direction the movie exactly wants take isn't predictable until the very end and that's a welcome change. "All About My Wife" is especially interesting all the way throughout because our sympathies slightly shift in the course of the film. While Jung-in is simply nerve-racking at the start her character gains more depth towards the end and we even are interested to know why she has become the person that makes her husband's life so difficult. In combination with the Casanova the focal point of the relationship also shifts and ultimately things don't look so easy anymore as they first did.

Therefore, kudos go to Im Soo-jung ("I'm a Cyborg But That's Ok", "A Tale of Two Sisters"). Initially, she is almost detestable, whereas concerning her character traits she resembles many wifes after some years of marriage. But behind her rants there is a really deep-rooted unhappiness hidden which Doo-hyun is everything but not to be blamed for. Lee Sun-kyun ("Helpless") at first plays the husband in a rather comic-like way and thus as an appealing figure. But even though he may get some more tough edges later on he remains the most shallow character in the movie. This is also because Ryoo Seung-ryong ("War of the Arrows") with his unique portrayal of the Casanova is all too often stealing the show. He thinks of conquering women as a game and at the same time revels in his own sorrow of not being able to fall in love.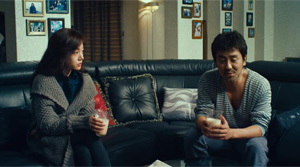 "All About My Wife" is well-written and full of likeable individuals. While at first the humor is standing more in the focus it is the drama later on, but contrary to similar genre works this shift doesn't feel unnatural, but inevitable. Furthermore, it isn't bothersome because the film isn't breaking with the rather cheerful tone. In fact, the more complex part of the depiction of the relationship is pushed further to the foreground. Director Min Gyoo-dong could already prove in his works "All for Love" and "Antique" that he has a knack for that special something in movies about relationships and even though "All About My Wife" loses some of its momentum throughout, the nicely conveyed story, the great characters and the well achieved ending will create a warm fuzzy feeling in the viewer.
(Author: Manfred Selzer)