A Taxi Driver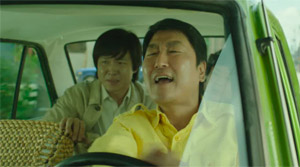 Story: Kim Man-seop (Song Kang-ho) is a taxi driver and single father. Because of his work he doesn't always have the time to take care of his daughter. But luckily he has neighbors who lend him a helping hand, even though they are also his landlords who he still owes a great amount of rent. When Man-seop happens to overhear that a foreigner wants to get to Gwangju and is willing to pay a great amount of money Man-seop snatches the customer away from his colleague. However, he isn't aware that he is putting himself in great danger with this ride. Because of the student protests Gwangju has been completely cut off from the rest of the country and Man-seop's customer Jürgen Hinzpeter (Thomas Kretschmann) is a German reporter who wants to report about the brutal actions of the military against the students. At first, it seems impossible to get into the town since the military has blocked all access roads, but in the end the taxi driver finds a way. Having arrived in the city Man-seop realizes, though, that his customer is a reporter and that he himself could get into serious trouble because of this. At the same time he also witnesses the military's bloody deeds and he sooner or later needs to decide whether he remains a passive onlooker or wants to fight for a better Korea...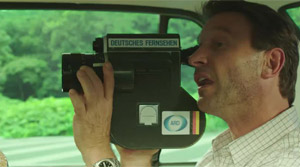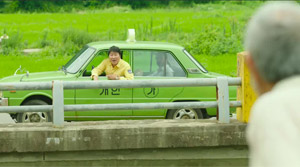 Review: "A Taxi Driver" is a historical drama which for its subject alone could by no means turn out to be a bad movie. Furthermore, there is also Song Kang-ho in the lead. Moreover, director Jang Hoon, who first gained some movie experience under Kim Ki-duk, has dealt with the political past and present of Korea in a critical way a few time before, see "The Front Line" and "Secret Reunion". Accordingly, this drama shows the necessary sensitiveness when tackling the true story of the Gwang-ju massacre, which exact circumstances are still not clarified to this very day and maybe could have been swept under the rug even more if it hadn't been for a German news reporter and a Korean taxi driver who risked a great deal to show the world the truth.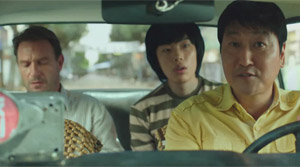 What's interesting in this context is the motivation of the two protagonists. Because none of the two is fighting for democracy and justice at first. The taxi driver Man-seop simply wants to earn a neat amount of money and doesn't know what kind of danger he is facing. But reporter Hinzpeter isn't a champion of justice in shining armor either. He is just looking for a good story and for this he is putting a lot on the line. Thomas Kretschmann's acting underlines the character's coldness and determination which doesn't exactly make us have a lot of sympathy for the reporter since Koreans are nothing more but useful tools for achieving his goals to him. But it bestows the necessary authenticity on the character. Furthermore, his very subtle transformation becomes even the more believable this way. Kretschmann carries the shock about the events in Gwangju and the emerging will to fight for justice in a quiet fashion.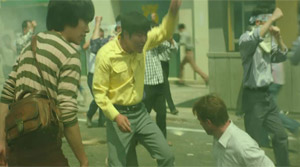 To have a veteran like Song Kang-ho ("The Age of Shadows") on board of the film naturally helps a lot to convey the change in the thought-process of the taxi driver and in his general attitude towards the political happenings in the country in a realistic manner. Because of his work experience in Saudi-Arabia Man-seop thinks that Koreans should be happy with what they have. The student protests in the country are merely a nuisance as his work is affected by them and when it comes to politics he simply follows the lead of president Chun Doo-hwan and his military dictatorship. Only when he sees the cruel and brutal actions of the military in Gwangju his eyes are opened. The pictures of the senseless killing of peaceful students are burnt into his head and so he might be able to pretend that he is happy returning to his daughter with all the money earned after having left behind the reporter, but only for a short time until all the things he has seen resurface before his inner eye and he gets pangs of conscience. He, too, needs to do something for Korea for it not to remain the country where things like this are order of the day.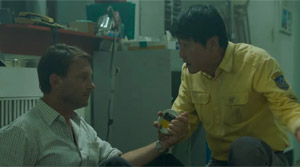 As not to be expected otherwise we get to see the protests wrapped in disturbing pictures. Especially the color palette utilized manages to give the events a very dark note at times. Unfortunately, there are a few scenes in which the killings of the students get a tad too melodramatic in tone thanks to repetitions, slow-motion and a soundtrack coming more to the foreground. "A Taxi Driver" actually stands above such standard tools of dramas which are supposed to emotionally touch us. In fact, Jang Hoon's work is a lot less emotionally charged than you would expect and this gives the events almost a domcumentary vibe. The slow pacing also adds to this impression which is reflected in almost unnecessarily lengthy captured scenes of get-togethers. This is supposed to show the everyday life which stands in stark contrast to the atrocities committed by the government.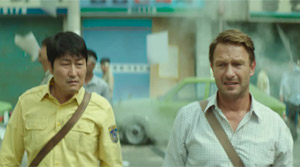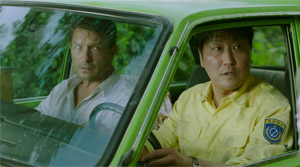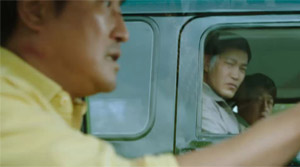 Every now and then there are also a few quite thrilling scenes in which reporter and taxi driver have to escape the military. Those pretty well working moments grow into action scenes, though, which seem out of place in the film and aren't captured that convincing either. Being more appealing are those moments when we get to know more about the taxi driver's private life or when the relationship between him and the reporter is deepened. The language barrier may cause a certain distance to always be apparent between the two, but what they experience together and suffer through welds them together on a different level, which makes the farewell between the two an unceremonious one, but also one that manages to move. When the credits roll we also see the real Hinzpeter - who died at the end of 2016 - in an interview which shows us that the relationship between the protagonists of "A Taxi Driver" may be on point despite artistic license here and there. In the end, there may be a few cinematic weaknesses, but this drama simply tells a story that needs to be heard/seen.
(Author: Manfred Selzer)